Many discussions about project management overlook the significance of the crucial early choices that shape the project execution approach. Decisions such as employing Agile or Waterfall methodologies, or choosing between prefabrication and on-site assembly, may not alter the expected project output, but they can greatly affect the delivery process and the project's likely success.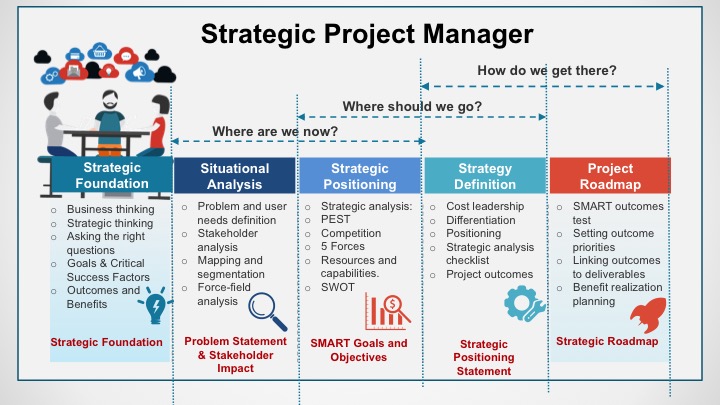 There's no universal solution. Strategy can be understood as the planning done by individuals higher up in the hierarchy, while tactics refer to the planning carried out by those lower down. This principle holds irrespective of one's position within the hierarchy. For instance, an initiative to enhance a city's bus system would be a tactic within a broader strategy to improve regional transportation. Yet, this regional transportation improvement strategy could be a tactic within a national government strategy to enhance citizen well-being.
Many projects are predisposed to failure simply due to neglecting this crucial 'thinking' step before hastily moving on to implementation. For a successful project outcome, key stakeholders must establish a strategy for project work, optimizing for quality, risk, and other factors. Then, they must devise project control processes that provide the best level of control based on the selected approach to project delivery.
Consider, for example, an IT project where the software delivery method can either be a traditional 'waterfall' or one of the various 'Agile' approaches. These mutually exclusive methods demand a significantly different approach to planning and managing the work. Or, in an engineering project, the resources, procurement contracts, and workflow required to construct a chemical plant 'on-site' will differ greatly from planning and managing the same 'plant' where most of the work involves prefabricating 'skids' in a factory environment and then placing them onto prepared foundations and connecting the units together.
These ideas and decisions should be recorded in a 'method statement' or similar document, which leads to the planning and scheduling processes and other key project elements such as procurement. Following this model, the project delivery strategy is determined early by the project manager and sponsor and, through documents like the 'planning method statement', it defines the tactical processes of planning, budgeting, and scheduling used to plan and implement the project's work.
Establishing Goals
Key performance criteria are essential to support planning and quality assurance (QA) processes. These may encompass safety targets, staff development goals, and environmental impact targets. Achieving these key performance criteria can fundamentally alter how a project is executed.
Key success criteria extend performance criteria to define the project's success at its conclusion clearly. They are the standards by which the project will be evaluated to determine whether it has successfully met stakeholder expectations. These criteria include project management success criteria, project deliverable success criteria, and project success criteria, which relate to the business benefits and value.
Creating Your Project Delivery Strategy
Some crucial steps in designing a successful strategy include:
Understanding and aligning with the organization's strategy
Familiarizing oneself with the project's overall requirements and its stakeholders
Identifying the project's key elements of value and success
Understanding the environment within which the project operates
Determining the delivery methodology and agreeing on this with the key stakeholders
Determining the project management methodology and agreeing on this with the key stakeholders
Developing the project's strategic plan based on available expertise, resources, and stakeholder risk tolerance
Undertaking a formal strategy development exercise
One helpful technique to understand what's important and how to make the approach more efficient is PESTEL, which stands for Political, Economic, Sociological, Technological, Environmental, and Legal. This technique essentially audits a project's environmental influences intending to use this information to guide strategic decision-making.
The challenge in implementing this critical project delivery stage is that it spans both the project initiators and the project delivery team. According to ISO21500 and most other standards, including the PMBOK® Guide, project management commences when the project is chartered and concludes once the project deliverables are completed.
The realm of project management extends beyond the simple management of a project. Before the project is chartered, portfolio and program management may involve PMOs creating organizational policy. These influences have an impact on determining an acceptable/optimal project strategy. When the project delivers its outcomes, decisions made within the project will influence the organization's ability to achieve the intended outcomes.
Beyond project management lies the wider organization and general management. This sphere of influence will determine numerous factors impacting the project strategy, including acceptable risk parameters. There are also broader environmental factors, including legal and regulatory requirements. Optimizing a project strategy within this environment necessitates both the project delivery team and the client/sponsor team's involvement in discussions focused on developing a project delivery strategy that maximizes the opportunity for a successful outcome. Coordinating these discussions should be a key responsibility of the Project Sponsor.
Unfortunately, arranging this type of discussion and planning is often difficult. Many contract documents dictate a delivery process, and/or the client and senior management may not realize they need to be engaged at this project lifecycle stage. A significant challenge for project managers and PMO managers is to concentrate more on these critical early project stages and work to engage senior management at the appropriate time.
Conclusion
Projects are set up to either succeed or fail and while success always requires 'hard work', failure can be easily attained simply by selecting the wrong delivery strategy. Once established, the project strategy forms the basis for many planning decisions. Simply defaulting to 'business as usual' without considering each project's unique aspects will inevitably lead to many sub-optimal outcomes. The strategy document should be succinct. Its purpose is to establish the framework for project planning work, not to replace project planning.
However, be cautious! Crafting a good strategy for a poorly defined project goal is unlikely to be beneficial. Adequate time and effort should be invested in clearly defining what needs to be achieved – the goal! Then you can formulate the optimal strategy and plan how to implement the strategy effectively.