This article explores organisational structures and roles, on the understanding that most roles are structured on a hierarchical basis – and can be universally defined using the acronym RASCI:
Responsible – "operational team-leader/manager" role.
Accountable – "top-level/executive/buck-stops here" role.
Supporting – "team-member/participant/supplier" role.
Consulted – "subject-matter expert/arbiter/customer" role.
Informed – "stakeholder/regulator/key-contact" role.
Leadership & Management Roles (Accountable/Responsible) tend to be focused on Resource/ Task objectives and are generally clearly defined within Functional or Team Structures, and as such, are mostly visible within and outside of the organisation.
Subordinate Roles (Designers/Engineers/Craftsmen/Operators) are mostly defined in Policies, Processes, and Procedures etc., and provide both the operational buoyancy and stability to what is essentially a hierarchical "iceberg" with only the top levels visible to the world at large.
Functional Roles (Finance/Quality/Safety/Security/Human Resources) are mostly Supporting Roles established and assigned to provide specialised knowledge and structural governance and are mostly defined/recognised at the Supporting/Consulted/Informed/Informed levels.
Hierarchies and roles mostly focus on 6 Areas of Interest defined by the acronym SIMPLE:
Stakeholders & Services.
Investment & Improvement.
Methods & Measurements.
Projects & Planning.
Logistics & Learning.
Effectiveness & Efficiency
Individuals can fulfil more than one role in respect of an activity, task or objective (e.g. quality specialists may have a project, operational and functional roles). However, only one person can ever be defined as being Accountable for any specific activity, department, project, task or objective.
Such Organisational Role Structures can be visualised as a TEPEE, with each organisational strand being represented by a Supporting Hierarchical Pole and with the Outer Walls both defining the Contextual Limits of the organisation, and enclosing/defining the Organisational Culture.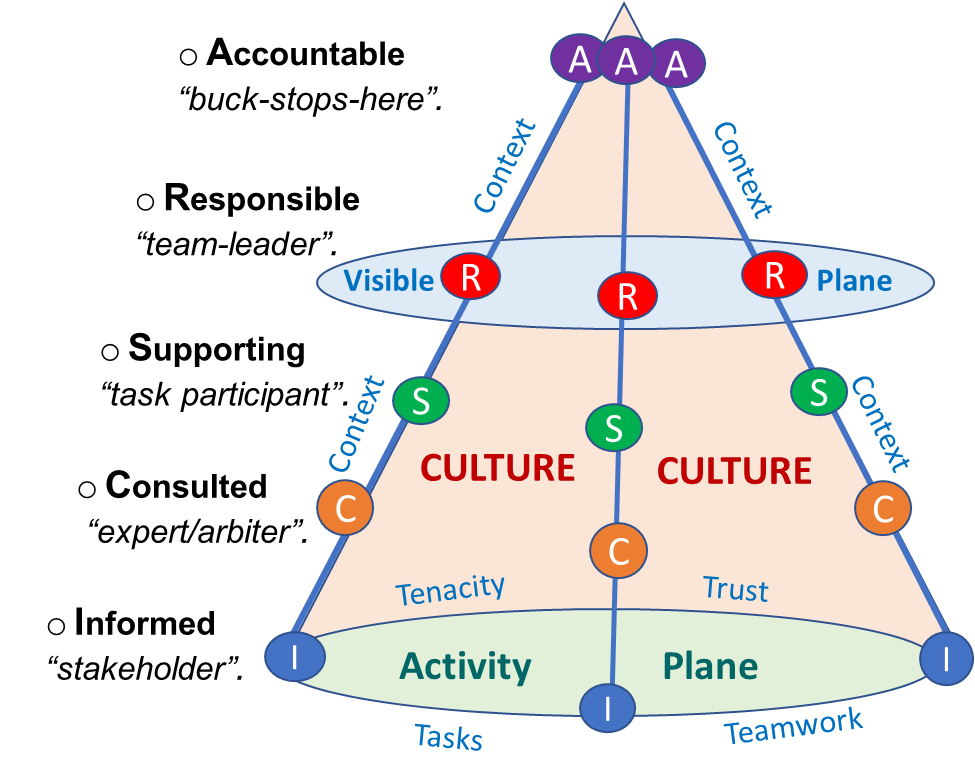 The Tepee's structural flexibility relies on an ability to delegate defined roles (except for Accountability) temporarily or permanently to nominated persons. Delegation is always downwards, and roles are relinquished when specified tasks, objectives or activities have been achieved, adjusted, or abandoned. The Activity Plane, as defined by the Tepee Base, forms the operational baseline for an organisation – and where success is based on its ability to define/manage/implement the 4T's: Tasks (defined/capable/agreed/allocated). Teamwork (internal/external/global). Tenacity (individual/team/organisational). Trust (capacity/competence/confidence).
Warren John is a retired QHSE practitioner/consultant – he studied Chemistry and Materials Science before working in Food and Nuclear Power Research, Water Treatment Engineering, Facilities Management, and finally, Quality, Health & Safety Systems.
He held several senior posts in UK/European Defence Supply Industries, designing and implementing QHSE Management Systems as applied in the UK, Europe and World-wide.
After an earlier retirement, he designed a comprehensive Quality Training System for a major UK Defence Contractor that won the CQI International Quality Team of the Year Award 2019.
He retains an interest in Rugby, the Cancer United Charity, Choral Singing, Abstract Painting – and generally seeking simplicity, humanity, and fairness in all things.