Objective
Review current status in changeover time for lead sites, identifying critical packaging lines in a key site, and carry out a pilot exercise to significantly reduce changeover time.
Establish a plan to identify and implement appropriate techniques – e.g. SMED (Single Minute Exchange of Die) system this is a set of techniques that make it possible to improve changeover performance.
Check results and make improvements.
Prepare roll out and training plans for other lead sites and potential suppliers.
Definition of Changeover
The time from the last product of one run until the first product of the next run at the correct speed and quality.
Some Concepts about Changeovers
Line stops
Run out old product
Remove old packaging
Clean down line
Remove old change parts
Repair and maintain new change parts
Fit new change parts
Deliver new product to line
Load new packaging materials
Run-in adjustments
Basic principles for quick changeover
Development between

internal (machine needs to be stopped), and
external (machine can be running) adjustments.

Transform internal elements to external
Streamline the other internal elements
Streamline the external elements
Current Situation
Based on the figures presented in your internal benchmarking studies it is possible to identify some "gaps" in current changeover time.
The elimination of these gaps will produce significant benefits in terms of availability and flexibility.
Methodology – Overview
SMED originated in Japan in the early '50s
It was developed by Shigeo Shingo at Toyota
Single means single-digit < 10 Minutes
It was first used in the car industry to allow fast Exchange of Die in body panel presses
It helped Toyota cut the time it took to change a large body panel press from 4hrs to 3 minutes
Benefits
Flexibility – Meet customer needs without the need for excess stock.
Quicker delivery – Shorter lead times means money is not tied up in excess stock.
Better quality – Reduced setup errors.
Higher productivity – Shorter changeovers reduce downtime, which means higher efficiency ie OEE up!.
Basic steps in a typical set-up
30% Preparations and clean-up

getting materials, parts, and tools and check function
remove materials, parts, and tools and clean up

5% Mounting and removing of parts
15% Measurements, settings, and calibrations
50% Trial runs and adjustments
Why do set-ups take so long?
Internal and external setup are confused

Internal set-up: the machine must be stopped
External set-up: can be done while running
Many tasks that could be done while the machine is still running are not done until the machine is stopped

Set-up is not stream-lined

No standard of who does what when
No parallel working
Tools, parts far away from the line, difficult to find
Many parts to mount
Many difficult settings that require adjustments

Economic order quantity model
Assumption: Sales are flat and continuous
Smaller orders to factory results in:

Lower Stock Level, Lower Stock Carrying Cost
Higher Set-Up Cost, Lower Maximum Capacity
SMED Format templates are available here
Changeover Activities
Parallel working analysis
GANT chart used to synchronize and balance the set-up activities done simultaneously by 2 operators.
Change Over Time Study – Analysis
Parallel working
Large machines often involve a lot of movement between elements of the set-up
This excess movement wastes time and effort
Think about the movement of the person doing the set-up and try to document the most logical sequence for the operation.
Develop and implement a procedure for efficient working
Consider using more than one person for the change

each person follows a fixed procedure
built-in (safety) signals to synchronize activities
Change Over Time – Target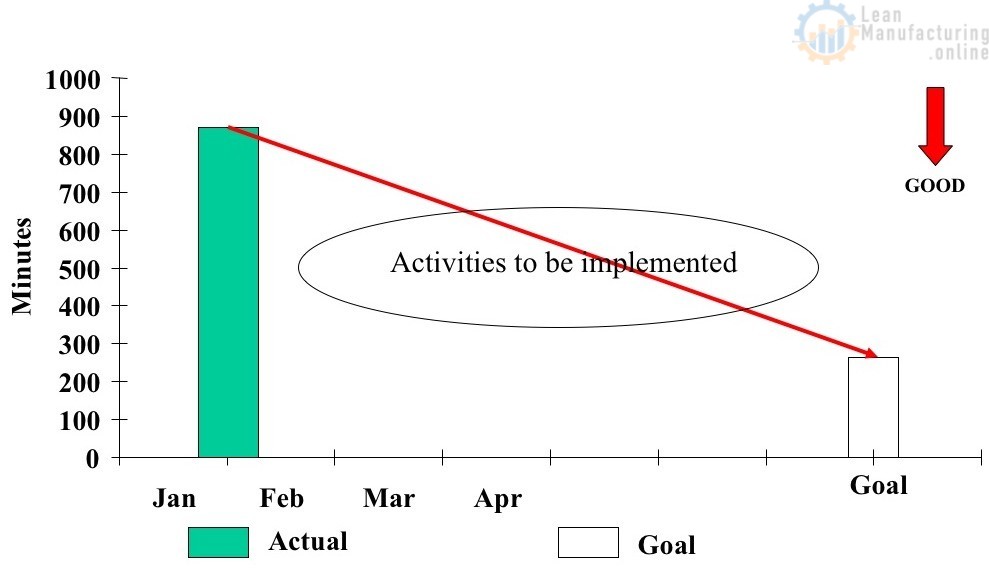 Advance preparation of operating conditions
Get the necessary materials, parts, tools, and conditions (temp. pressure) ready BEFORE set-up begins

Check gauges
Put items in the right positions
Preheat
Build temporary holders
Implement the standardization function
Decide which functions can be standardized

standardize outside dimensions, fittings, settings so that parts can be exchanged easily

Try to replace the fewest possible parts (zero!)
A die performs 2 functions:
Apply mechanical pressure
Form product

is unique for each product
Least Common Multiple
Change function by making a setting

Leave mechanism in the machine and just modify its function by setting
– Make settings NOT adjustments
Next Steps
Agree proposed recommendation and establish a pilot project. (Identify benefits upfront)
Establish a plan to implement adequate techniques – as suggested the SMED (Single Minute Exchange of Die) involving Operational Excellence Team
Check results and make improvements
Roll out, as the best practices, for other lead sites (can also consider working with suppliers!)
SMED Format templates are available here