Voice of the Customer
Customer focus drives such questions as:
Why are we in business?
Where do we need to be in the future?
What is the source of our 'Competitive Advantage'?
Customers align cross functional organizations:
What drives purchasing behavior?
What is a defect, what is Value?
Who is the Customer?
All end-users or recipients of the service, product, or process. The customer can be either internal or external. Examples of customer:
Consumers of our products and services;
Internal Functions: Sales, Marketing, Operations;
Equipment, Machine or Computer System;
Process step;
Employees;
Management;
Anyone whose success or satisfaction depends on the performance of our process.
Customer needs
The "Voice of the Customer" (VOC) is the qualitative or quantitative expression of the things that drive customer satisfaction;
In a commercial setting, VOC is all those things that drive intent to purchase or repurchase VOC is the true customer voice – in the words of the customer.
Examples of VOC
"l will buy the lowest cost product"
"l am not satisfied with the speed of the service"
"l don't want to wait for too long to see the doctor"
"l just want good service"
Sources of collecting VOC
Reactive Sources:
Complaints;
Problem or service hotlines;
Customer service/support calls;
Decreased, increased, or repeat business
Contract cancellations;
A web page or social media activities;
Internal complaints, etc.
Proactive Sources:
Interviews;
Focus groups;
Surveys;
Sales visits/calls;
Market research/monitoring;
Benchmarking;
Scorecards / Dashboards.
Understanding Customer needs
Remember it is difficult to access and understand meaningful information;
Customers tend to be vague;
Customers do not always know their own requirements;
Not all customer needs are equally important and can be met economically;
Testing, probing, and further research is often required and ongoing.
VOC needs to be quantified, converted into metrics that can be measured;
Critical To Quality (CTQ) Metrics are the measurable elements of a product or service the defines customer satisfaction;
CTQ Metrics allow us to:

Avoid misinterpretation of the VOC;
Identify key metrics;
Understand the gap between the current and desired state;
Validate the impact of improvement actions.
The CTQ tree
"Critical To Quality" Tree/Flow down:

A CTQ Tree is a tool that translates needs considered vital by the customer into product and service characteristics and links these characteristics to organizational processes.

Generally, VOC is:

Not measurable;
Complex;
Not specific.

CTQ's are:

Measurable;
Simple;
Specific.

Converting the VOC into measurable CTQ's is a key step in the improvement journey.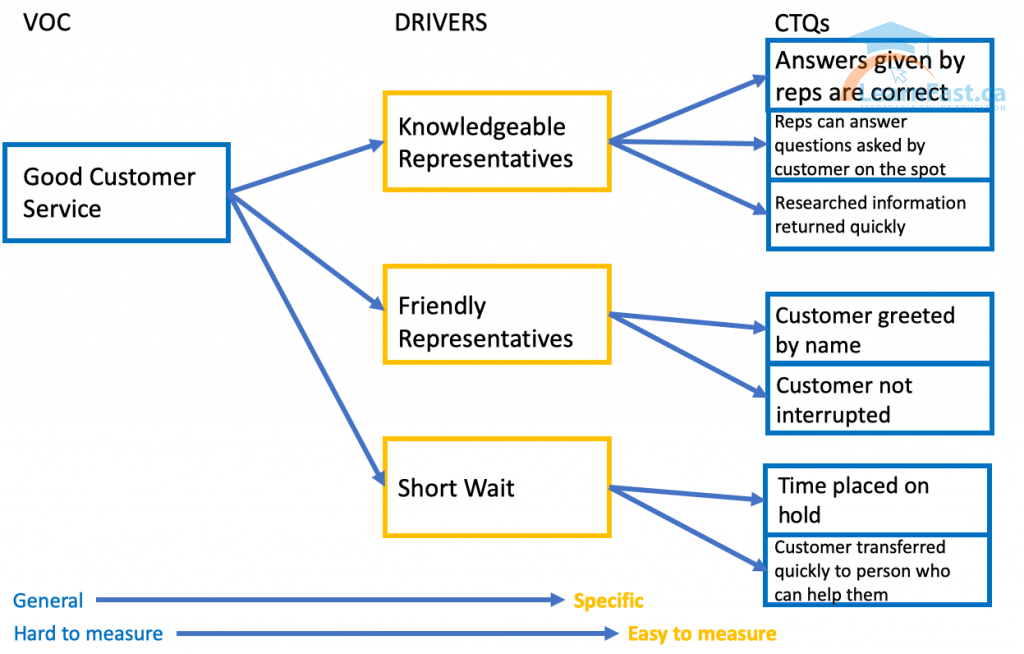 Read more: KANO Analysis