In order to perform gap analysis, relative rankings of different facilities (sites) needs to be captured:
Parts and Materials in Store Room
Computerized Maintenance Management Software (CMMS) utilization
Criticality of assets ranked and maintained
Planning and Scheduled work
Work order system
Effectiveness of Preventative Program (PM)
Maintenance Management Duties, Tactics and Best Practices
Number of Technical Training Days/Men
Overtime needed every month on average
Maintenance Planner's Duties, Tactics and Best Practices
Trades' Duties, Tactics and Best Practices
Example of Overall Assessment: Reactive Breakdown Maintenance Prevails
Parts: Deficient tracking & control
CMMS: Tool not effectively leveraged
Asset Criticality: Not established
Planning: Generally not practiced
Work Orders: Systems lacking
PM: Schedules not adhered to
Behavior: Focus on fixing breakdowns not preventing. Fire fighting is rewarded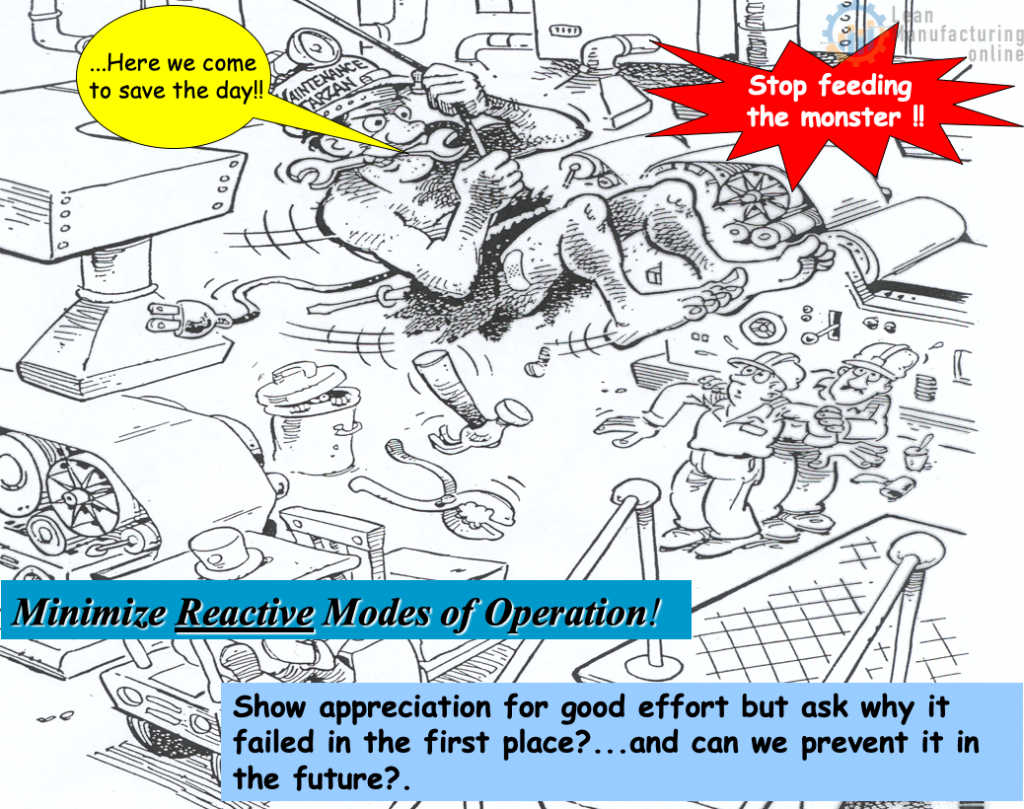 Leadership Support of the EM Process
When visiting the sites, ask about EM status:
Number of Breakdowns (Baseline  vs. actual)
Number of Breakdowns analyzed and documented
% Improvement in Breakdowns
Parts Inventory (Baseline cost, number of line items)
Parts stocked but not used in 6 month, 1 year, 2 year)
Status of  the PM program (number of equipment with at least a PM procedure attached (100% of type "A" most critical equipment)
% Of available man-hours documented in a work order program ( > 95%)
Example of findings. Parts
Lack of SOPs & KPIs
Incomplete Parts attributes
Poor Housekeeping
Inventory value and number of line items unknown
No routine analysis of parts usage
Poor parts tracking – suppliers leveraging us
Parts Issuing not linked to WOs/assets
Inventory accuracy not frequently monitored
How Findings affect EM:
Critical Parts not available when needed
Many Purchase orders with single items
Good and bad parts mixed together
Duplication of Inventory
Higher cost to expedite parts needed
Equipment Breakdowns longer than necessary
Increased cannibalization of parts/assemblies
Incomplete Maintenance cost
Corrective Actions "in Progress":
Stockroom Re-Organization
Preparing operating procedures
Establish & set parts attributes for stock items
Establishing Performance Indicators
Where possible, closing the stockroom
Condensing number of stock locations
Using the CMMS to manage parts
Example of findings. CMMS
Discipline not in place to use of the tool
Analysis of "data entered" often non-existing
Imputed data not monitored for effectiveness
System not expanded across the plant
Incomplete record of parts issued, where, when
Incomplete record of labor consumed by equip
Lack of standard system
How Findings affect EM:
Undocumented Costing
Lack of info. to justify equipment improvements
Difficulty in knowing where budgets will be used
Excess Spare Parts Inventory  and growing
High stockouts on Parts
Cumbersome queries and info tracking
Lack of "I have a hunch" supporting data
It broke therefore we must fix it, …..but we must ask "why it broke in the first place"?
Corrective Actions "in Progress":
Preparing operating procedures
Re-establishing minimum functionality
Purging/Cleaning of present data
Training of Users
Expanding to include all assets maintained
Shifting to Trades using the PC for: knowledge gain, documentation, and troubleshooting
Example of findings. Asset Criticality
No Asset criticality list developed or maintained
Maintenance work independent of asset's importance, level of redundancy or work priority
Preventive or Predictive Maintenance Costs  not linked to equipment  improvements
Purchasing and stocking of parts not ranked by "most critical", first, or where is used
How Findings affect EM:
Resources available spent on non-critical assets. Not prioritized
Less effective use of the Maintenance budget
Labor usage not maximized
Increased costs expediting non-critical Parts
Increased bonding to Reactive Maintenance
Unneeded effort spent in low usage, low production,low risk assets,redundant assets
Corrective Actions "in Progress":
Developing asset criticality list in order of importance to the business
Publicizing the list
Assigning a keeper to update list
Obtaining input from all and commitment by local Steering Committees
Beginning to manage resources by following the list order
Example of findings. Planning & Scheduling (P&S)
No real dedication to operating by P&S
None or partial Maint. Planners assigned
Reactivity stills controls the resources
PM procedures not monitored for effectiveness
Much time spent planning jobs on the fly
Cancellation or delay of work w/o review of consequences
Each shift operates differently, inadequate coordination, following different WOW
How Findings affect EM:
Labor not used effectively, requiring increase number each year
Inflated number of parts in stock
Not having the right part available when needed
Breakdowns are repeated
Parts/Assemblies cannibalization growing
Wear trends not predicted or tracked effectively
Corrective Actions "in Progress":
Establishing Maint. Planners (1:15 trades)
Preparing PM procedures and linking them to critical assets
Maintaining relevant parts in stock and leveraging parts suppliers
Eliminating Breakdowns due to increased attention by planners
Example of findings. Work Order (WO) system
No / limited work order system in place
Parts used not linked to a WO upon issue
WOs not covering all equipment maintained
Labor hours not entered on the WO
Entries not monitored for correctness
WO used for PM work only
Lack of Equipment I.D. system in place
WO not a full part of the Maintenance WOW
How Findings affect EM:
Equipment history unreliable for making $ decisions
Maintenance costs incomplete or hard to track
Work backlog difficult to calculate and schedule
Every job done starts from scratch every time
Documentation for tracking warranties, permits,audits & inspections diminished by lack of data
Analysis of history about CBM & TBM becomes impossible to perform
Failure trends not detected in time
Corrective Actions "in Progress":
Expanding system to all equipment maintained
Establishing disciplines, procedures & WOW
Using the WO module in the CMMS to more consistently track repairs, improvements, F-tags
Activating the work requisition function plant wide to track, enter, and respond to work needed.
Example of findings. PM program
PMs schedule not adhered to
PM procedures have details missing
Labor & parts not pre-planned and ready
No one assigned to check PM effectiveness
Often not linked to pre-inspections
No dedicated team in place since there is low commitment to execute
"Seat of the pants" Lubrication plan
How Findings affect EM:
Failures repeated, new failures unpredicted
Cost of maintenance 3 to 5 times higher
Spare Parts inventory twice the size
Minor stoppages sabotaging good production runs and contributing to reactivity in EM
Budgets spent in equipment restoration wasted due to discontinued or bypassed PM schedules
Lower MTBF due to lack of formal PM Inspections of critical assemblies
Corrective Actions "in Progress":
Existing PM procedures under review and checked for completeness
New added value procedures created
Scheduling PM now include participation from Production planning
Planners check PMs for effectiveness before scheduling
Procedure creation involves operators & crafts
Example of findings. Preferred Behavioral Activities
Equipment failures not documented/analyzed
No open reviews of top failures encountered
All crafts resources placed on Reactive Maintenance
Many crafts still believe that "no matter what, Production rules"
Crafts have low knowledge of the cost of parts, breakdowns, repetitive failures,poor lubrication
Planners not utilized in proactive tasks
How Findings affect EM:
Seat of the pants solutions not designed to eliminate recurrences
Maintenance costs escalating
Breakdowns take more time to repair ( > MTTR)
Repairs are more frequent (shorter MTBF)
Corrective Actions "in Progress":
EM managers re-organizing  Maintenance
Changing present Reactive techniques to more Proactive ones
Leveraging the Planners (to provide summaries and information about where resources are used & why and to track trends of repairs)
Establishing new working disciplines & procedures
Providing training to trades and capturing in Skill Matrix
Develop production plant personnel with the highest skills and competency standard that al…