Vision
Become a value added support for Make that enables the Supply Chain to achieve superior customer service levels at the lowest possible cost.
Mission
To communicate, cooperate and coordinate Supply Chain support within Make and across the interfaces with Plan, Source and Deliver.
Objectives
Demonstrate leadership

TPM not just for shop floor personnel;
Identify and eliminate Non-Value Added processes and activities in the SC interfaces with Make;
Increase the responsiveness of Value-Added processes and activities to meet Customer's expectations.
Deliver business results

Identify and eliminate waste in Make driven by ineffective interface processes (Plan, Source, Deliver) to increase Output Reliability/Schedule Adherence/Customer Service;
Fully leverage software to manage business operations and customer relations capabilities to minimize Working Capital;
Develop cross-functional teams capable of delivering continuous flow, value added business processes.
Key Strategies
Leadership

Identify, optimize and share value added business processes;
Provide guidance on technologies that can expedite value added activities;
5S common office areas, QC labs and Warehouse.
Eliminate inefficient processes

Provide easy, quick access to all Make data reporting needs and TPM pillar information VIA portal technology

Downtime, Loss Tree, OEE, KPI's, Scorecard, SCIS, Benchmarking, OPL, Kaizens, Self-Assessment scores,Training Materials, Skills Matrix, Etc.
Deliver Results

Identify and prioritize key losses driven by Make inefficiencies or Supply Chain interfaces and apply appropriate tools/techniques to eliminate them

Inventory accuracy, schedule changes, run strategy, forecast error, warehouse utilization, material flow, supplier quality & service, Shelf Life (Obsolescence), DOH inventory, Order/Invoice Accuracy, Schedule Attainment, Office Procedures, etc.

Replicate successes across all plants by leveraging MSCOP organization
Site visits (internal & external) to Benchmark for Best Practices
Manufacturing SIPOC
Manufacturing Support in the Manufacturing Process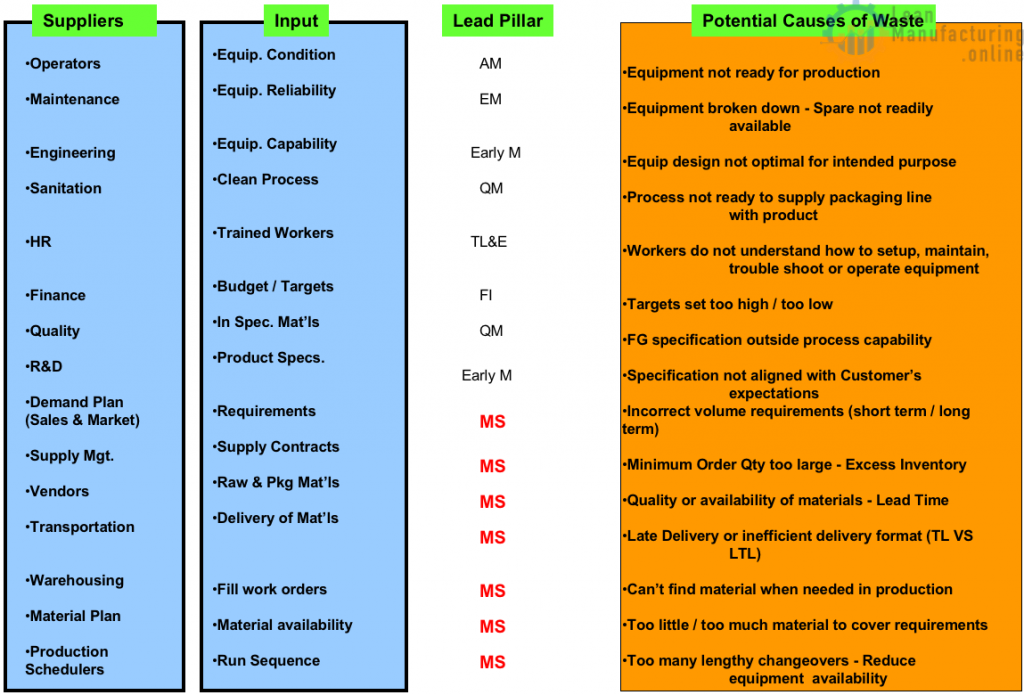 Key Interfaces
Plan

Demand Planning , Sales, Marketing

Source

Supply Planning, Vendors, Transportation

Make

Planner / Scheduler, Finance, Receiving, Shipping & Warehousing

Deliver

Logistics
Customer Service
Losses overall definition:
Production loss: Losses related to non conformance of Materials, line layout and commissioning process.
Line Scheduling loss: Losses related to deviation on the original line plan.
Over/under production loss: Losses related to any deviation on the production volume due to human error, deliberated decision or both.
Logistics loss: Losses related to inbound materials availability (4M), planning mistakes or plan communication.
Market Request loss: Losses related to requested plan changes due to poor forecast process or stock control.
System loss: Losses related to systems such as SAP issues.
Mapping of 16 big losses to MS loss tree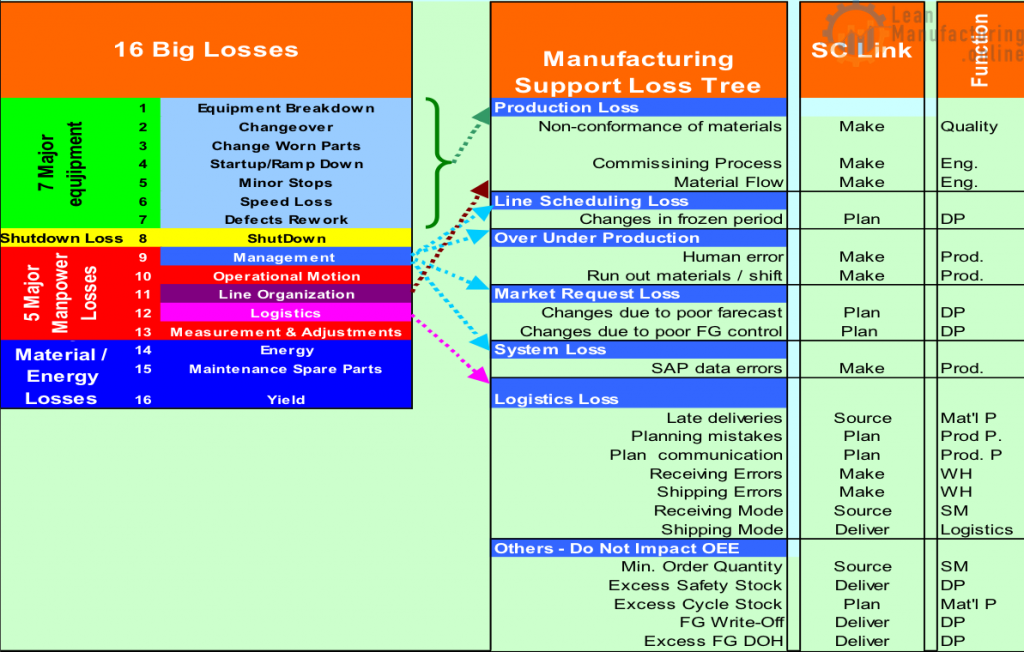 Manufacturing Support Pillar Process
Manufacturing Support KPI
KPI
DOH – Raw, Pack & WIP Inventory
Output Reliability (Schedule Attainment)
Other Performance Indicators
Total Management Loss (Loss Tree)
Number of schedule changes within frozen period
SKU complexity
Portfolio produced weekly (%)
# of SC planning schedule changes
# of Changeovers exceeding target time
% On-Time Deliveries (Pack & RM)
# of Errors – Receiving information
# of Errors – Shipping information
Raw, Pack & WIP Inventory Accuracy
IQR (Inventory Quality Ratio – Pack, RM & WIP)
% FG Rework
$ FG Write-Off
Key Initiatives
Downtime collection System
One Place Data Entry and Retrieval
One Place Data Entry and Retrieval for all TPM related Information
Develop production plant personnel with the highest skills and competency standard that al…