The purpose of equipment maintenance is to sustain adequate equipment condition at all times in order to have uninterrupted production.
There are two main objectives of the Effective (Planned) Maintenance Pillar.
What are they?
ZERO BREAKDOWNS
MAINTENANCE COST REDUCTION
Using the 4M approach, let's examine a typical "Before PM" situation.
Machine = Equipment
Material = Spare Parts
Man = Maintenance Technician
Method = Maintenance System
START MEASURING KPI'S
EQUIPMENT KPI's
SPARE PARTS KPI's
MAINTENANCE TECHNICIANS KPI's
MAINTENANCE SYSTEM KPI's
Reach Zero Breakdown in equipment
8 Elements Approach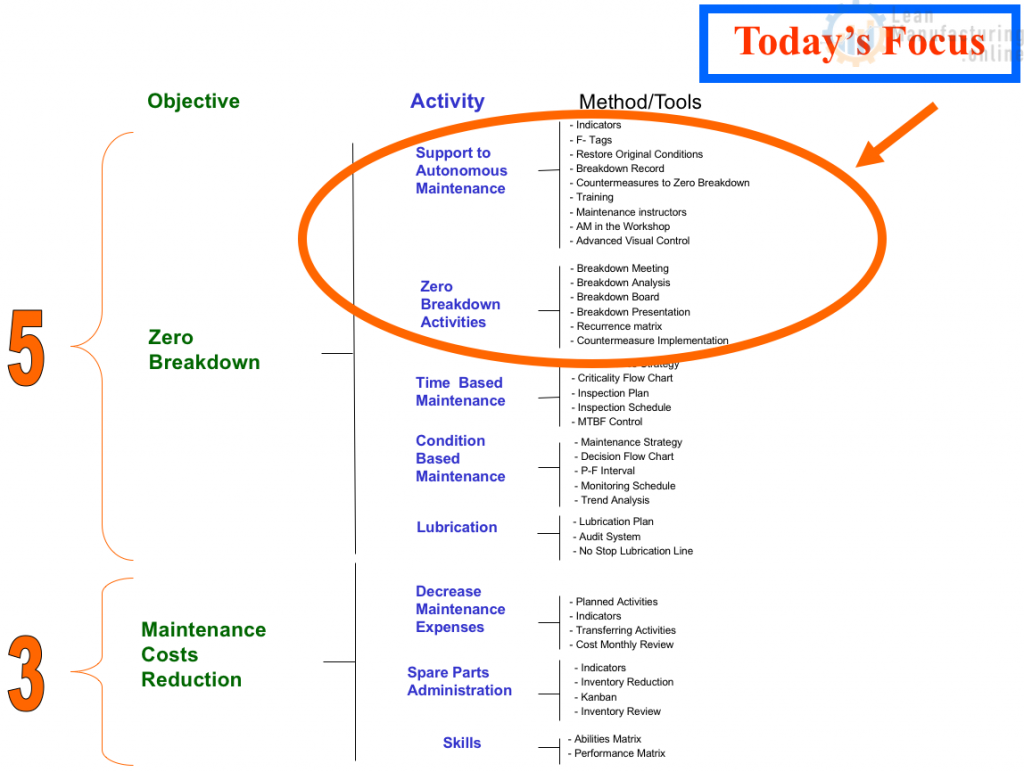 PM links with AM through the 7 Steps
Through the 7 Steps of PM and AM, the Mechanics are to work hand in hand with the operators
Explain structure and functions of the equipment.
Show what to clean
Show how to clean
Explain abnormalities
Participate in creating One Point Lessons
Help Restore Equipment to Original Condition through the F-Tagging System.
PM Pillar must ensure that maintenance areas go through the same 5 S and AM Step 1 activities that the lines go through.

Concept of forced deterioration.
Assist in eliminating Sources of contamination.
Assist in eliminating Hard to Access areas.
Correct Abnormalities
Assist with Visual controls
Participate in Root Cause Analysis
Record all Breakdowns – Classify by the "5 Reasons" for breakdowns.
Breakdown record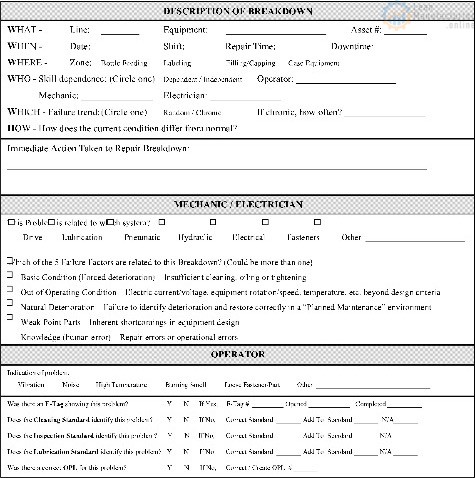 WHAT IS A "BREAKDOWN"?
A Breakdown is any time your machine loses its function for greater than 10 minutes and a component needs to be REPAIRED or REPLACED to get it running again.
IT IS NOT:
AN ADJUSTMENT
RUNNING UNDERSPEED
OUT OF MATERIAL
LESS THAN TEN MINUTES
QUALITY HOLD
Who Fills Out a Breakdown Record?
* Operators (Person responsible for Loss Sheet)
* Mechanics
* Electricians
The Operator should initiate a Breakdown Record whenever a BREAKDOWN lasts over 10 minutes.
TOP OPERATOR'S SECTION 5W & 1H
BOTTOM OPERATOR'S SECTION
4 SENSES SECTION – How did you notice the problem?
F-TAG REVIEW – Did one exist?
CLEANING STANDARDS – Adequate?
INSPECTION STANDARDS – Adequate?
LUBRICATION STANDARDS – Adequate?
OPL FOR THIS CONDITION – Does one exist?  If not, should one be developed?
CRAFT SECTION
5W & 1H SECTION / IMMEDIATE ACTION
Is the general description documentation correct?
SYSTEM IDENTIFICATION 
What type of breakdown is it?
FIVE CONDITIONS OF FAILURE
Which one(s) contributed to the breakdown?
5 CAUSES TO BREAKDOWN
Support to Autonomous Maintenance
TENTATIVE COUNTERMEASURES FOR BASIC CONDITION
TENTATIVE COUNTERMEASURES FOR OUT OF OPERATIONAL CONDITION
Typical operational condition might be: Temperature, speed, air pressure, hydraulic pressure, mechanical pressure, weight, voltage, electrical amperage…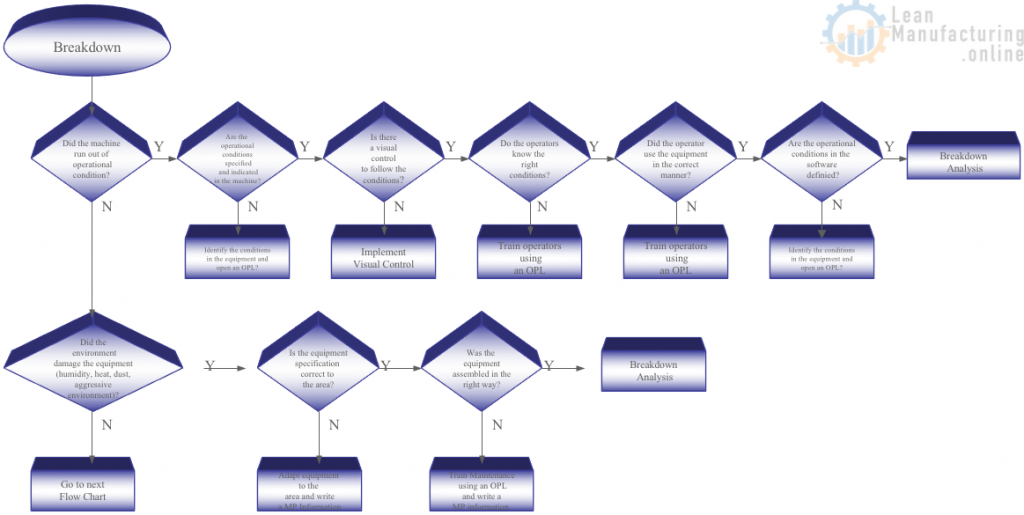 TENTATIVE COUNTERMEASURES FOR DETERIORATION
TENTATIVE COUNTERMEASURES FOR WEAK POINT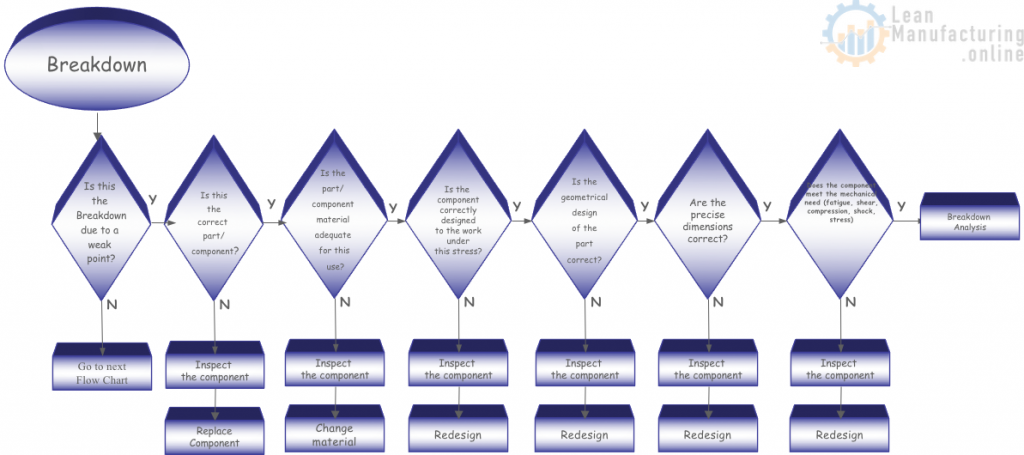 TENTATIVE COUNTERMEASURES FOR KNOWLEDGE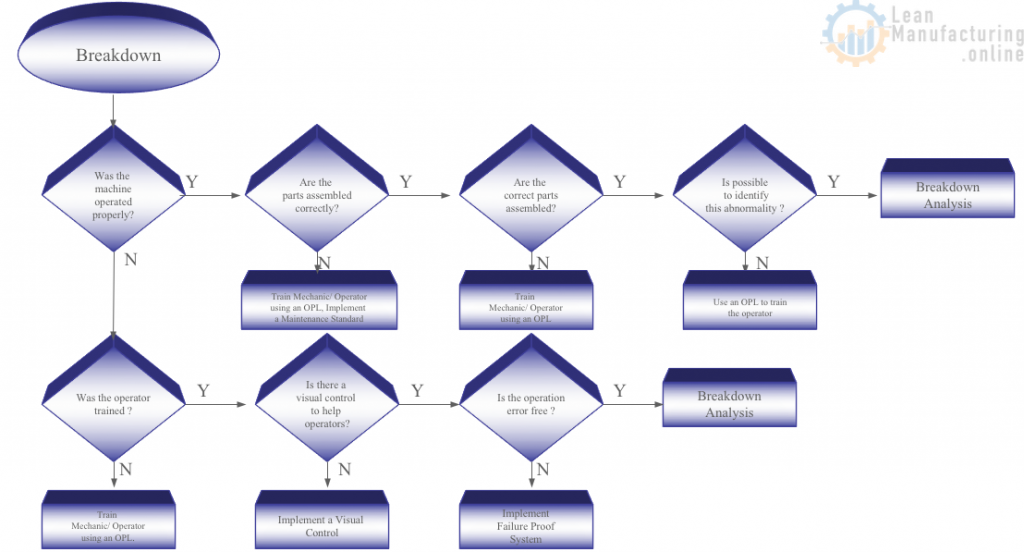 Treasures table
Mechanic/Electrician should place the bad part and Breakdown Record on the Treasure Table (organized by zone).
KNOWLEDGE TRANSFER
Mechanics & Operators from each shift review and sign off on breakdowns from their "zone". Operators learn correct terminology.
WHY FILL OUT BREAKDOWN RECORDS?
Communicate issues (transfer knowledge) across all shifts, not just the shift it happened to
Feed back information to asset "Reliability Owners" to help ensure adequate Preventive Maintenance (PM's) and Lubrication & Inspection Standards are in place
Breakdown history kept in Breakdown Database to determine chronic problems
Initiate Breakdown Analysis for those > 1hr
Identify "Corrective Maintenance" opportunities
Breakdown Analysis. The Next Step
Typically, Breakdown Analyses are filled out in the beginning for breakdowns over 2 hours.  As your PM Pillar progresses, look into reducing this number by 50%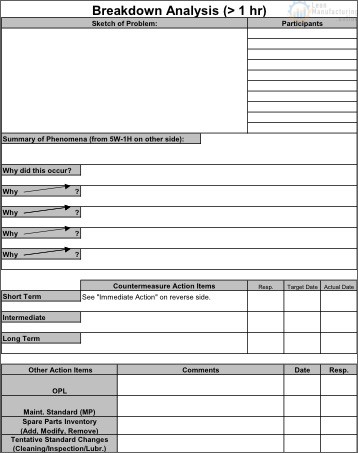 The biggest challenge during the TPM implementation is to change the tradesmen mind set from the reactive approach (firemen) to a proactive approach (machine physician).
The first step is to explain that a repair does not finish when they fix the machine, but it finishes when they take action to prevent the recurrence.
Zero Breakdown Activities
During the beginning of TPM process, most factories have a high number of breakdowns, and the tradesmen are only focused on fixing the breakdowns.
Because the tradesmen (firefighters) are only focused on preventing breakdowns (fight the fire), they are not preventing the recurrence of breakdowns.
Some factories have a difficulty in identifying which breakdown they need to prioritize to analyze utilizing 5 Why technique.
In the beginning because of the high number of breakdowns it is important to establish some criteria to identify the major breakdowns in the factory, and analyze these. Once the number of breakdown have been reduced, the criteria will need to be tightened, until you can analyze all breakdowns in the factory.
To start first analyze repetitive breakdowns, at least the #1 contributor in each line or area. If there there are some resources available you can look for upward trends or downtime over 2 hours.
Breakdown Meeting Flow Chart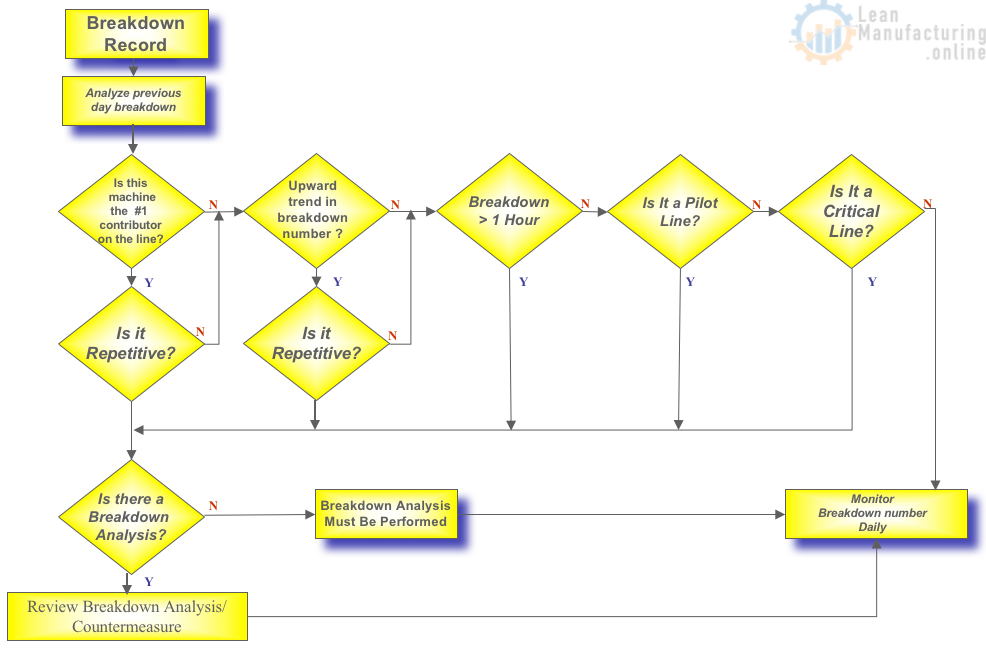 Maintenance Technicians perform a daily meeting to analyze all last day breakdowns.
After a breakdown meeting the tradesmen need to be able to answer these questions:
How many breakdowns did your area have in the last 24 hours?
How many breakdowns did every line in the #1 contributor equipment have?
How many repetitive breakdowns did every line in the #1 contributor equipment have?
Is any equipment showing an upward trend?
Is the upward trend caused by a repetitive breakdown?
How many breakdowns were over 2 hours?
Are the tradesmen performing the breakdown analysis on time? Which one is late? Why?
What temporary countermeasures have the previous day breakdowns generated?
The action plan for temporary countermeasures is on time? Which one is late? Why?
Are the On The Job training for the previous day completed? Which one is late? Why?
Remember: Repetitive Breakdowns always need to be analyzed!
Example of Cascade Down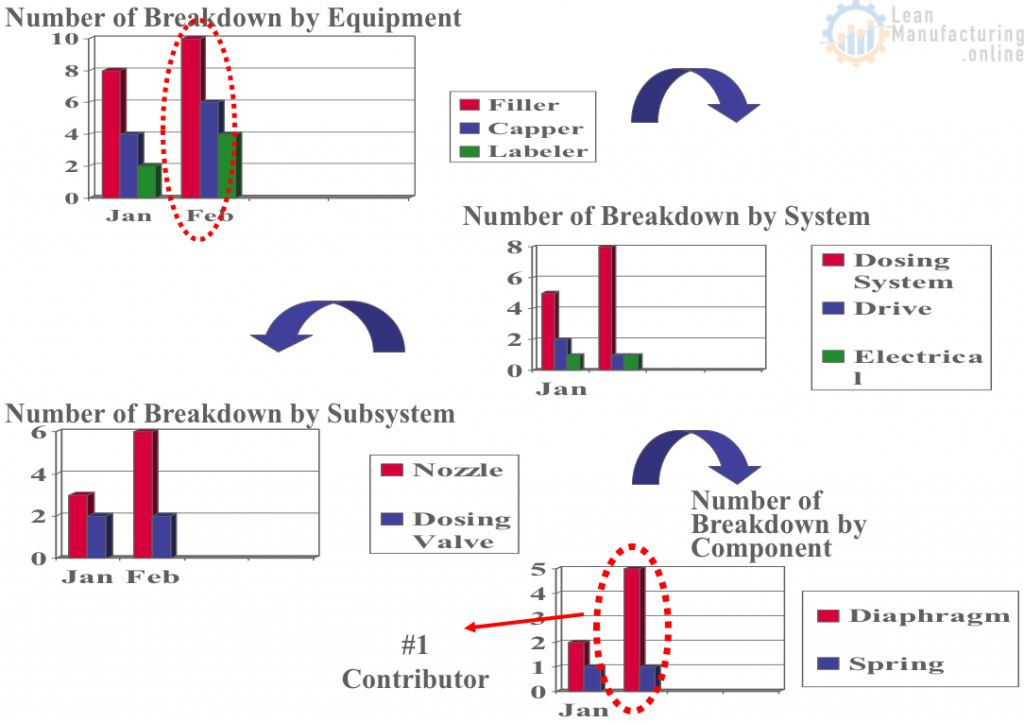 Assist in creating Cleaning , Inspection and Lubrication standards.
What
How
How often
Who
Why
Identify weak parts
Determine what training operators require.
Determine safe limits of operator activities
Develop training modules
Some specialized activities are beyond the scope of Autonomous Maintenance.
CREATE TRAINING MODULES
Train Operators using worn parts and hands on modules.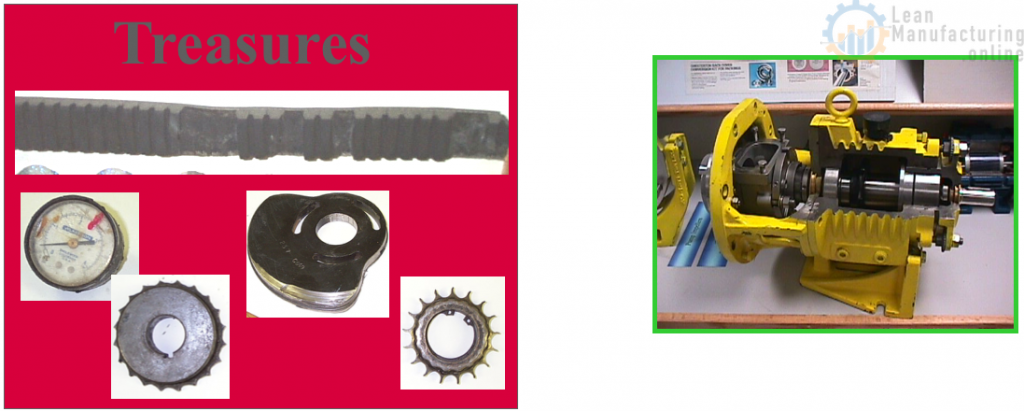 The goal is not to get rid of maintenance personnel, but to get more efficient and effective use out of everyone involved.
Once you become less reactive and more proactive, the other 3 areas of "Zero Breakdown" will begin to be practiced.  You will also have time to start analyzing your costs to see how you can reduce them.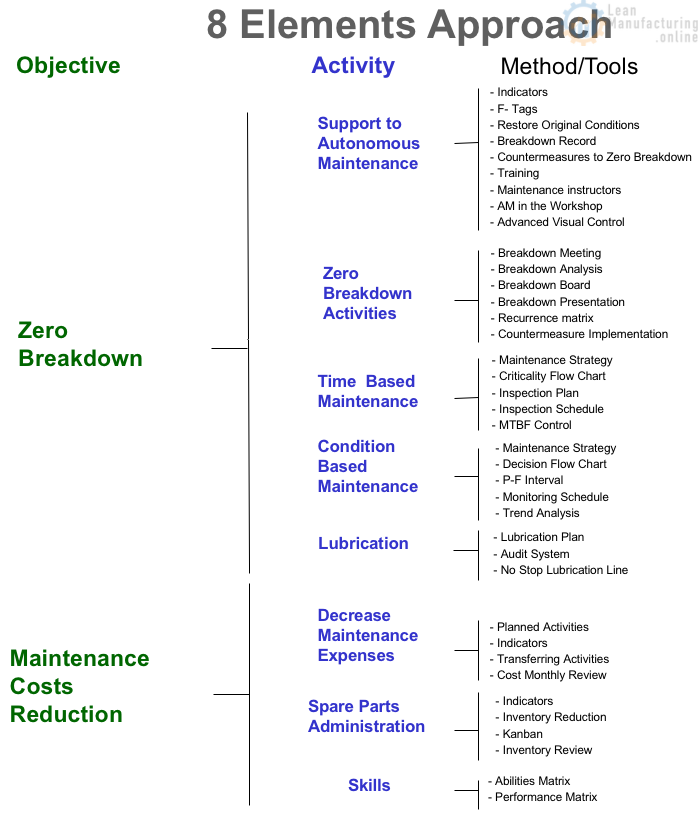 Examples of Common KPIs and Goals
Breakdown Cascade Down
Examples of Common KPIs and Goals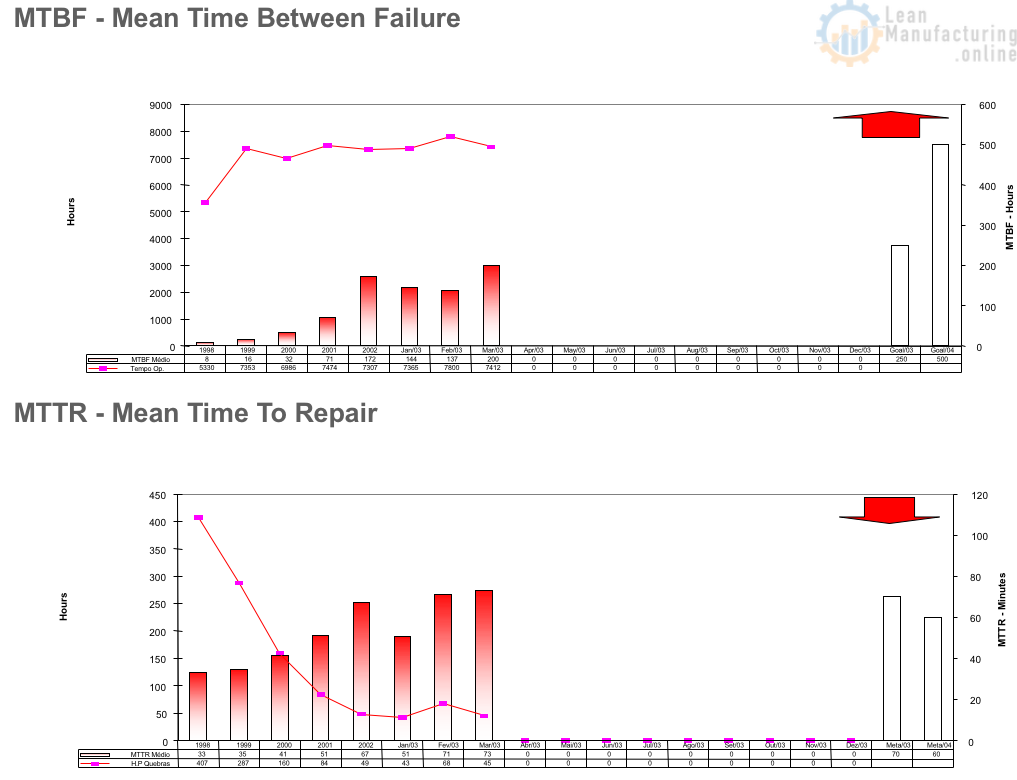 Breakdowns by Reason
Establish a Masterplan to Guide Your Efforts