During this phase we have only one target – identify vital few and find solutions to improve them.
Identify and select solution(s)
Validate new process capability
Assess and mitigate risk associated with implementing new process
Pilot project solutions
Implement solutions
Tools that will be used to make it happen, they are heavily dependent on the goals and objectives of your project.
Kaizen
Non-Value Added (NVA)/Waste Elimination
Line Balancing
Cell Design
Standardized Work
Work Levelling
If the project goal is to reduce cycle time or improve flow, tools such as 5S, Line Balancing, and Kaizen are appropriate. More complex projects, where the relationships between variables are not well understood, will rely on Six Sigma tools like regression.
Reduce Waste and Improve Flow
Move from "PUSH" to "PULL" from Customer
Basic tools to identify WASTE
Spaghetti Diagrams
Process (Flow) Maps
Process Reports, Audits and Assessments
TIMWOODS
Transportation

Materials, inventory, information

Inventory

Storage, handling, carrying costs, etc.

Motion
Waiting & Delays

Information, people, upstream processes, etc.

Over-Processing

NVA steps, redundancies, etc.

Overproduction

More than what is required, "push", before it is needed

Defects, Errors, Mistakes

Associated inspection and rework, re-do, scrap, etc.

Skills Under-Utilized

Knowledge and talent not leveraged Assigned to NVA activities,
Current VSM has been developed, time to create Future State one
Aligned with organizational "Lean" strategy and objectives
Requires significant knowledge of core lean tools and principles

Identify waste and opportunity
Eliminate waste, improve flow

Not necessarily an "ideal" state but is a "future" state

It is a "to be" model based which allows you identify and implement improvements to close gaps between current and desired future state.
How to create Future State VSM
Calculate Takt Time

Available time divided by the number of units required by the customer (forecasts)

Identify Bottlenecks in the Value Stream

Operations performed in batches?
Operations with the longer cycle time?
Work balancing/load levelling chart

Identify Lot Sizing/Setup Opportunities

Rapid/Quick change-over is key

Identify Potential Work Cells
Determine Kanban Locations

Supplier to Cell? Cell to Customer?

Establish Scheduling Methods
Calculate Lead and Cycle Time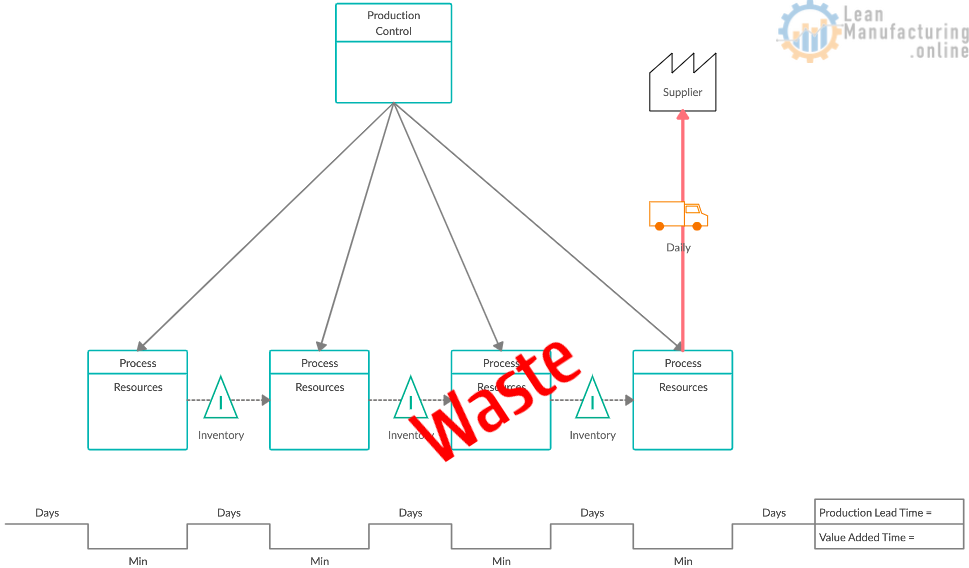 Implementation Plan
Always keep business objectives of the product family in mind
Avoid implementing "silo" improvements – driving sub optimization
Break the Future State map into small manageable pieces or "loops"
Complete a Gantt chart for all improvement activities. Include….

What to do, when & by who?
Goals
Appropriate Metrics
Breakdown of activities
Time
Support/Help
Relate Future State map to floor layout
Review your current layout and identify physical changes to support your Future State
Include Layout changes on your Gantt Chart Plan
Involve Stakeholders in Gap and Risk analysis – key to managing resistance
Include behavioral changes in your analysis – not only process changes.