Industrial Engineering is concerned with the design, improvement, and installation of integrated systems of people, material and equipment. It draws upon specialized knowledge and skills in mathematics, physical and social science together with the principles and methods of engineering analysis and design.
Bottom line benefit
When it is all said and done, the goal is to have a system operate safely at the rated efficiency and quality throughput.
Techniques available to Industrial Engineering
Complexity Analysis
EPQ (Economic Production Quantity)
Downtime Analysis
A, B, C Analysis (Pareto Analysis)
Material Movement Analysis
PSMS (Production Scenario Management System)
SMED (Single Minute Exchange Die)
Safety Stock Determination
Line Validation
Yield Analysis
SKU Pruning
Activity Based Costing
Plant Layout & Design
Plant within Plant
Warehouse efficiency studies
Motion & Time Studies
Work Station Design & Ergonomics
Manufacturing Planning & Control Systems
MRP (Materials Requirement Planning)
Capacity Planning
JIT (Just In Time)
MPS (Master Production Schedule)
Equipment Acceptance
Line Balance "De-Bottlenecking"
TPM Implementation
Computer Simulations
Automatic DT Data collection
Line Performance Improvement Process
Industrial Engineering Techniques vs. Supply Chain
Each Industrial Engineering technique can provide insight and guidance to achieving maximum effectiveness and utilization of company assets through the entire supply chain, end result Reduce cost & Grow Profits.
Overview and examples of application
Downtime Analysis – Data Collection Pyramid approach
Generate FUEL for GROWTH
Strategy: accelerate manufacturing restructuring and reliability improvements
Deliver Measurable Sustained Flexibility and Reliability Benefits from TPM
Downtime Analysis
Identify and quantify equipment that needs attention
Implement TPM FI Techniques
Identify operator training needs
Provide justification to upgrade or replace equipment
Provide input for computer simulation
SMED Analysis
What is it?

A methodology to increase plant capacity and efficiency by optimizing the change over and cleaning process;
Experience has shown the SMED principle can be effectively applied to any process.
Basis for Rapid Changeover: 
Rapid response manufacturing is achieved by a 'pit stop' mentality.In auto racing every second counts so pit stops are highly organized and fast.
Key questions:
Can you get the changeovers on your machines faster? – are they fast and efficient? Do people know what they are doing?
Five step approach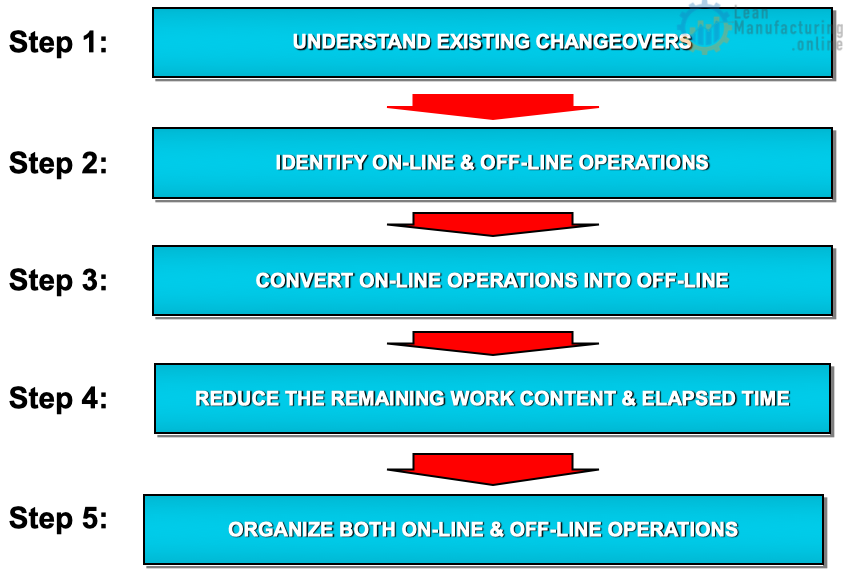 Complexity Analysis
It is a tool used to understand the relative amount of operational/organizational effort exerted to produce a quantity of product over a given timeframe.
How can it be used?
Quantifies impact on production output due to different production scheduling strategies

Long vs. short runs
Campaign scheduling
EOQ run rules
Make to inventory
Make to order
Sequencing (Light to Dark or Allergens)
Complexity
Reduces production efficiency;
Dilutes management's focus;
Drives up cost of doing business by increasing inefficiency in everything we do.
Economic Production Quantity (EPQ) Analysis
The quantity to be manufactured at one time that minimizes the combined cost of manufacturing and cost of carrying inventory.
What can it be used for?

Identify lowest possible cost schedule for the business
Provide insight to understand tradeoffs of different production schedules and customer service levels.
Aid in developing accurate product costing for short run cost penalties or high volume price discounts
ABC Analysis
What is it?
Pareto Analysis (Sales, Profit, Costs, Etc.)

A = Top 20%
B = Upper Mid 30%
C =  Lower Mid 30%
D = Bottom 20%

How can it be used?

Identify where management effort should be focused to gain biggest bang for the buck
Supports SKU Pruning – low profit SKUs
Assist in production scheduling

line selection
plant within plant
Summary
We have Rediscovered Value Of Industrial Engineering
Benefits Of Optimizing Across Entire Supply Chain
Need To Accelerate Change To Plant Floor
New Techniques Can Be Added As We "Borrow With Pride" – Best Practice Team
Need To Leverage These Techniques Were Appropriate
Optimizing And Leveraging Existing Assets