Due to decreased warehouse space, consumer packaged goods companies are forced to have shorter production runs, which leads to increased number of changeovers.
Agenda
Training Objectives and Expectations
To reduce C/O time by at least 50%;
To develop training material to roll out across all production areas.
Six major equipment losses
Major Stops
Minor Stops
Changeover Loss
Startup/Shutdown Loss
Speed Loss
Quality Loss
Definition "Changeover"
The time from when the last case of a run was produced to the first case of the next run.
Note: C/O loss and Start-Up Loss are closely related
Measure:  Time (mins)
Definition "Startup and shutdown loss"
The time required to reach 'normal' running condition after a changeover or beginning of the week, or after PM.  (Shutdown is the time taken to ramp down during a shutdown for C/O, PM, or end-of-week).
Note:  'Normal' running condition is when the production machine reaches average efficiency.
Measure:  Time (mins)
Changeover vs. startup
Categories of changeover
External vs. internal
The 3 Components of C/O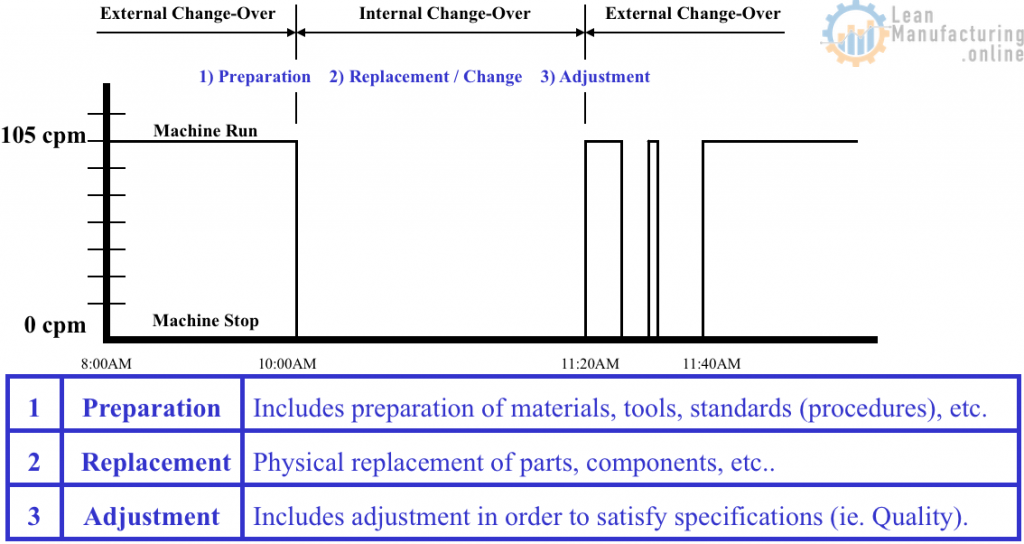 7 Steps for Focused Improvements – Changeovers
Step 1: Form C/O Team
Step 2: Understand Present Status (Check)
Step 3: Time & Operation Analysis (Analyze)
Step 4: Plan Improvement Items (Plan)
Step 5: Implement Improvements (Do)
Step 6: Standardization
Step 7: Training
Step 1: Form C/O Team
Define the team members of the Focused Improvement (FI)
Set targets for C/O time reduction (50%)
Agree on a plan for C/O FI activities (who, what, when, where)
Step 2: Understand Present Status
Record actual Changeover on video for review in the boardroom
Use the "Time & Operation Analysis" worksheet to describe the actual (current) Changeover procedure
Use a stopwatch in a boardroom to review tape while filling in the worksheet
Step 3: Time & Operation Analysis
Step 3: Analyze Problem
Identify Internal changeover operations that can be performed during External changeover activities
Apply the S.E.N.D. methodology to all steps on the "Time & Operations Analysis" worksheet
S.E.N.D. Methodology
S.E.N.D. is a tool to help facilitate improvement (reduction) in Changeover time:
Simultaneously
Easier
Eliminate Number of Operations (or Steps)
Eliminate Distance between Operations (or Steps)
Simultaneously
Definition:
Perform tasks in parallel that were once done in series, at the same time vs. separately
Examples:

Tightening two thumbscrews at the same time
Bring all change-parts to the line simultaneously (on a cart for instance) vs. one-by-one
Easier
Definition:
Modify a task such that it takes less time, materials/tools, or thought to perform.
Examples:

Eliminate the need for screwdrivers by using thumbscrews
Color code change-parts so it is clear which part goes with which size
Etch or Mark a change-over setting
Eliminate Number of Operations
Definition:
Reduce the total number of tasks (operations) that are performed during the changeover
Examples:

Replace six (6) bolts with one (1) quick-release
Use a change-over cart (all change-parts and tools required for the job are on the cart)
Eliminate Distance Between Operations
Definition:
Reduce the physical distance between tasks (operations) to eliminate unnecessary walking time
Examples:

Ensure all bolts or thumbscrews are physically accessible from one side of the equipment
Use a change-over cart to minimize walking back and forth from a change-part storage location
S.E.N.D. Summary
Note:
Often many tasks can be combined to achieve several components of S.E.N.D. (ideal):
Example:  Changeover Cart

Simultaneous because all parts are brought out at the same time
Easier because the cart is on wheels and parts don't have to be carried
Number of steps reduced because obtaining change-parts is now a single step (vs. multiple trips)
Distance reduced because only need to make one trip for change-parts
Step 4: Plan Improvement Items
Develop an improvement implementation plan (who, what, when, where)
These are the actions resulting from the S.E.N.D. analysis on the "Time & Operations Analysis" worksheet
Step 5: Implement Improvements
Execute the improvement plan
Verify actions are effective
Collect detailed setup information (to be used in Step 6)
Step 6: Standardization
Develop standard set-up sheets
These sheets are to be used each time when performing the change-over
Specific information, documenting change-over steps, settings, locations (where the cart can be found), color schemes, etc.
Measure "after" changeover times and compare with "before" situation
Step 7: Training
Develop an activity board
Provide training sessions for new changeover process (track training records)