TPM Autonomous Maintenance Step 4 Lubrication Module. Part 2
In-Line Air Lubricators
These lubricators lubricate the air supply to air operated equipment.  Do you work on any air operated equipment? Drip rates can be adjusted using the adjustment knob on top of the lubricator.
Components Identified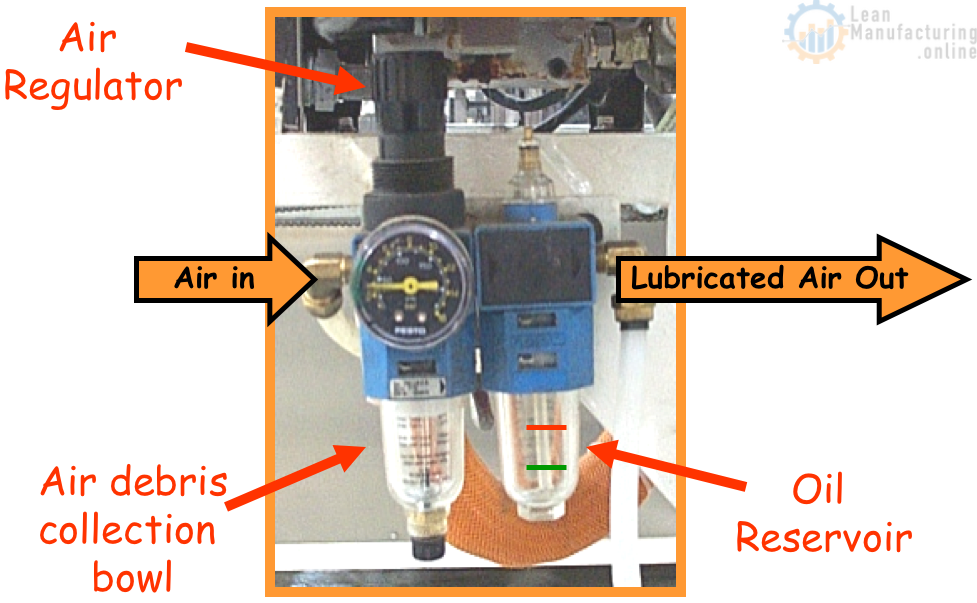 Air lubricators cannot be filled while pressurized.  Pressure must be removed by activating the air dump or closing the isolation valve.  Always remove the fill port cap "slowly" to remove the remaining pressure.
REMEMBER YOUR LOCK OUT/TAG OUT PROCEDURES!
Lubricant Amounts
2 potential problems:
Too Much (over lubrication)
Too Little (under lubrication)
Over Lubrication
Over lubrication occurs when the amount of lubricant exceeds the required amount to adequately reduce the friction between moving parts.
Potential problems:
Damage to machine seals
Component leaks
Undue stress and wear on motors/parts
Contamination of product
Increased friction
Under Lubrication
Under lubrication occurs when the amount of lubricant falls below the required level to prevent friction between moving parts. 
The main problem is machine parts seizing up and irreparable damage.  Even if levels are low, friction on moving parts will increase and cause damage over time.
Follow machine documentation.
Verify correct lubricant is used.
Check levels and amounts used.
Observe flow and amount where possible.
Uses senses to observe undue friction (how?)
Label lubrication points with type/amount (tags)
Be aware of unusual changes in machine usage.
Follow lubrication schedule!
Lubrication Effects
Downtime for adjustment
Frequency and seriousness of breakdown
Product quality
Percentage of product rework
Cost of machine maintenance
Equipment life cycle
Reduced speed losses
Reduced minor stoppages
Tools used for Lubrication
Grease guns
Pumps – oil cans or oil bottles
Spray lubes
Grease Gun
Hand powered lubricators with special fittings on the end of hoses that connect to grease fittings on equipment.
Guidelines for use
Verify correct lubricant is used
Verify grease is present in supply cylinder
Check proper operation
Wipe off zirc to prevent contamination
Insert outlet fitting of gun on the zerk fitting
Keep outlet tube straight on zerk fitting
Verify transfer of greases by handle/lever pressure
Watch for grease around outlet/zirc connection
Do not over grease.  (Follow Standard)
Wipe off excess grease
Oil cans
Hand lubricators that are used to apply oil directly to machine parts such as chains and sprockets and to fill local oilers.
Guidelines for use
Verify correct oil is in can for parts to be lubricated
Verify that can is operating properly
Apply oil directly to parts only during shutdown to prevent oil from slinging onto associated equipment.
Wipe up all excess oil
NEVER use the same oil can for two different types of oil.  Even if the can is empty, the residue from the old oil will contaminate the new oil.
Spray Lubes
Aerosol-pressurized cans that spray lubricants on the parts to be lubricated.  Designed for chains, wide surfaces and in hard-to-access areas.
Guidelines for use
Verify correct type of lubricant
Shake can vigorously
Insert straw adapter if necessary
Verify correct operation
Direct spray at parts to be lubricated
Do not over lubricate parts
Clean any excess spray lubricant
Return spray lubricant to proper storage
Hazards of Cross Contamination
Cross contamination is the mixing of different types and/or weights of lubricants.
—Always verify the correct lubricant has been obtained
—Always use lubricant specific containers
Lubrication Safety
Always use LOTO, when specified
Review HMIS – Hazardous Materials Identification System
Minimize skin contact with used oil
Clean up thoroughly
Hazardous Material Identification System Label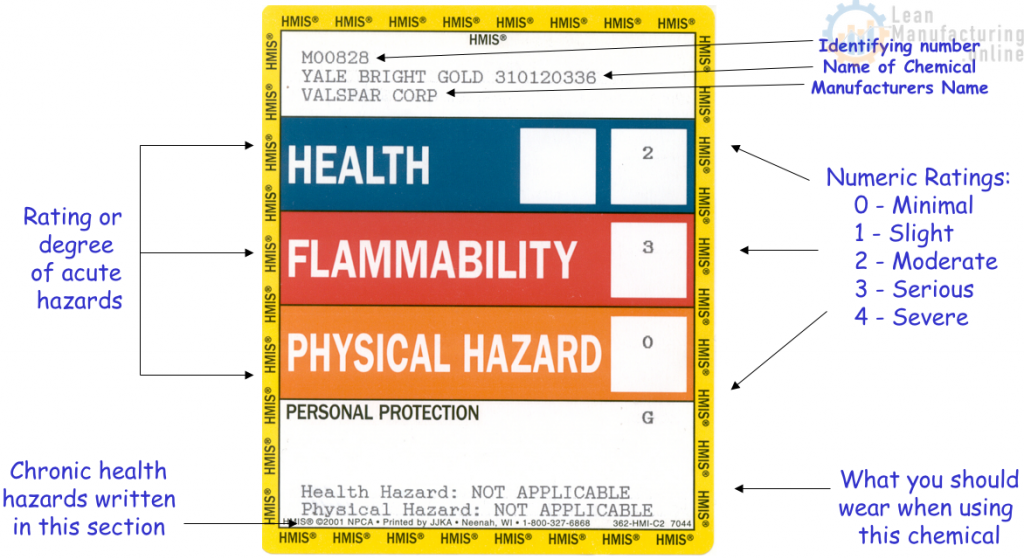 Don't Forget about TAGGING!
Abnormalities are potential problems
Abnormalities accelerate deterioration of equipment
Abnormalities are detected through cleaning and inspection
Remind them to tag, tag, tag!  Now that operators are getting more and more AM Step 4 training, should the number of blue tags vs. red tags be changing.
Lubrication Competency
Assess knowledge gained by associates by demonstrating skill with "Hands on" practical exercises on physical models.