One of the important tasks of Maintenance crew is quickly return equipment back to production after breakdown happens, so minor won't become major one. Although analyzing breakdown and implementing countermeasures are necessary steps to improve OEE but also to have the best skill set to troubleshoot and repair is essential to any manufacturing facility.
Let's start from assessing skill set of your maintenance department, best tool to use is:
Skill matrix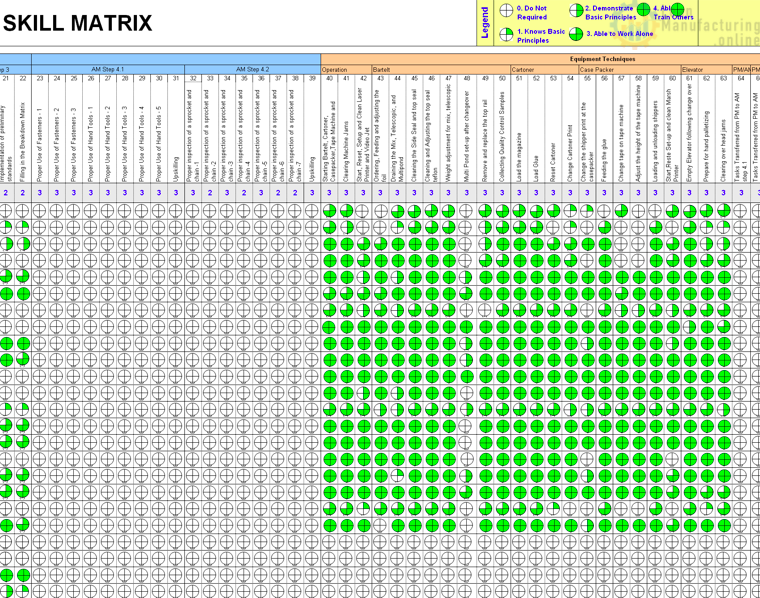 How to develop and maintain skill matrix, please refer to our article. Do not forget to update Skill Matrix when either new equipment added or older one upgraded in order to maintain level of knowledge.
The large increase in complex mechanical machinery requires constantly improved methods in the erection and operation of such equipment. Many developments of new materials, and the method in which they are used, have evolved over the past few years that have decreased maintenance costs-thus increasing the life of the machinery.
Troubleshooting categories
When planning and assessing skills for Maintenance Department, consider these must to have trades skills: 
Mechanical (Pneumatics, Hydraulics)

Ability to quickly determine issues with mechanical timing (ex. top seal stays too short, causing product leakage)

Electrical

In timely manner find and replace failed electrical component (ex. worn contactor that causing overload of main drive)

Controls and Automation

Resolve issues with PLCs (Allen-Bradley, Siemens, OMRON, Mitsubishi etc.)

HVAC

Troubleshoot and repair plant's ventilation system

Boilers and Refrigeration

Maintain safe operations of Utilities
Some other tips to improve troubleshooting process
If better or faster ways were found to identify and resolve the problem, capture findings in OPL and share with the team, also can be used to train new team members;
Periodically bring OEM trainers to review and assess knowledge of maintenance staff as well as ability to determine root cause for emergent problems and equipment breakdown.
Planned Maintenance Work Order Flowchart
Work Order and Parts Management are also crucial to make sure breakdowns will be effectively fixed and equipment will be return in production mode ASAP.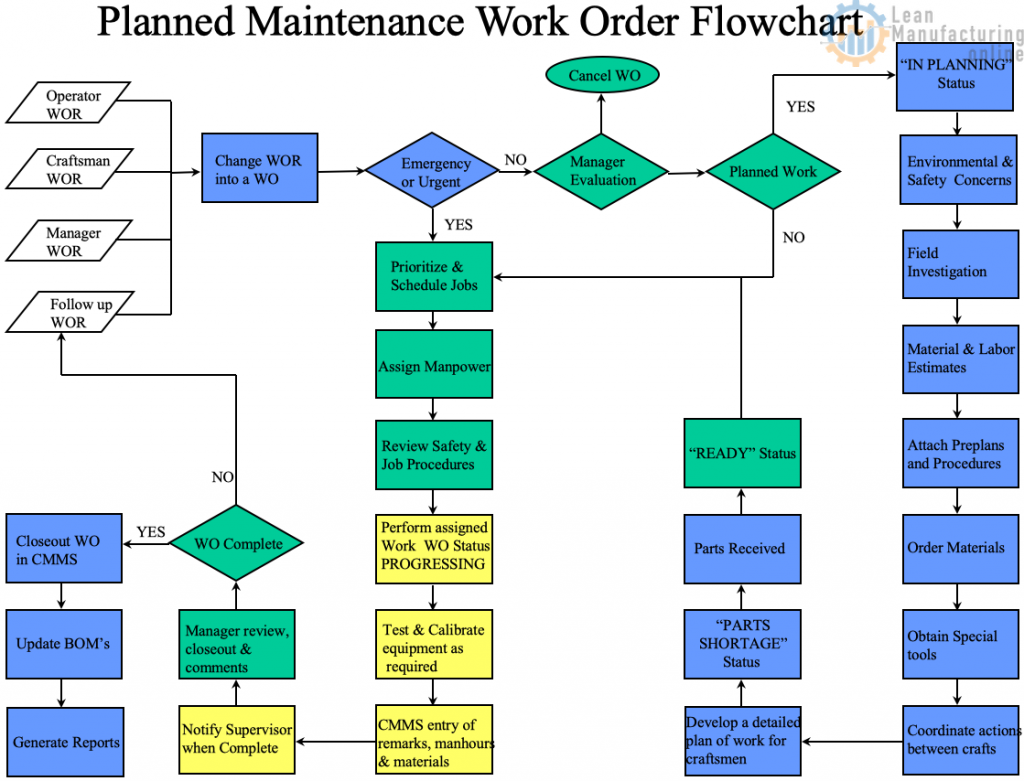 Types of Maintenance
Last step is to understand what types of Maintenance needs to be performed in order to Sustain or Improve.