Autonomous Maintenance Step 6 and 7 – Standardization and Autonomous Management
AM 
–

Step 6 Activities – Standardization
Objective

Standardize Routine Operation to sustain & prevent Problems.

Activities

Develop Sub-step Activities

6.1 Quality
6.2 Change Over
6.3 Cyclic Operation
6.4 Safety

Review the Role of Operators, and Efficiency Improvement and Standardization of Related Work
Maintain an Effective Autonomous Inspection System
AM 
–

Step 7 Activities

–

Autonomous Management
Objective

Establish Line Management system by First line Team – Autonomous Management
Control Cost – develop Annual Budget by Team
Use "Policy Deployment – "Hoshin Kanri"

Maintain Optimal Equipment Condition
Striving to Meet the Targets of Zero Failures and Zero Defects
Maintaining a Proactive Attitude To Equipment Maintenance
12 Key Points in A.M. Implementation
Collaboration between departments is important

Thoroughly educating members during the introductory stage at each department, to ensure their understanding of what AM is;
Sharing roles to attain common targets and exerting maximum efforts

Leadership of Managers results in practice

AM is work in itself;
Placing emphasis on hands on experience, unconcerned with theory.

The precedent of manager models represents the initiative

The Managers initiative and shining example is an essential requirement;
Understanding the essence of AM at the workshop through the use of actual equipment.

The manner of diagnosis leads to activation

Directing the people to the tasks to be done in the future;
Evaluation of what has been done.

Through education, it is understood that to teach is to learn

Adopting new ideas for carrying out education;
Understanding the necessary knowledge personally, to ensure subordinates

'

understanding.

Enhancing understanding through One Point Lessons

Basic Knowledge: Info that must be shared;
Problem Case: What was lacking and recurrence prevention;
Improvement: Cases leading to positive results.

The experience of success leads to a challenging mind-set

Accumulating many successful cases;
Experiencing what has not been carried out help us overcome difficulties.

Giving Focused Improvement themes to teams for implementation

Themes related to routine work;
Minor stoppages, set-up, failure analysis.

The TPM Activity Board is a communication tool between the Manager and the team members

Showing the participants plans, ways of thinking, status of execution, and achievements in an immediately understandable way;
The activity board allows Managers to get a sense of team members efforts.

Meetings are a barometer of the activity level of the team

Creating good ideas through all members participation and expression of their opinions;
Forum of reflection, study, and proposal.

Work should be executed promptly

Delay in the execution of requested work will impede the activation of circles;
Review of the maintenance sector's response.

Implement thoroughly

The degree of thoroughness determines the quality of maintenance and management.
Step Diagnosis
This is the important goal-sharing process.
Each team evaluates the progress of Kaizen/TPM.

Control timeline (Deadline)
Evaluate Kaizen/TPM activities from the viewpoints of "Need to Improve" – Weakness & Opportunity.
Align the direction with the plant-wide master plan.

Managers evaluate the progress of Kaizen/TPM form the viewpoints – how each team drive the right direction onto the plant-wide target & goals and managers' target & goals.

Plan & Analyze the resource for a team to move on the right direction & the right on time.

Analyze the connection with AM and other pillars. – Move smoothly such as AM and T&E using F-Tags, … etc.
Step Diagnosis Flow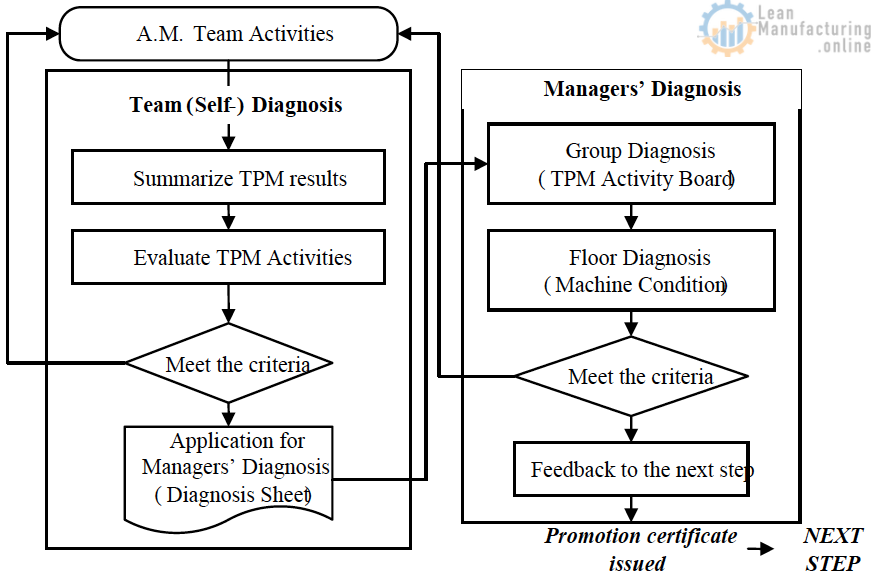 Step Diagnosis Checklist
AM Step Progress Control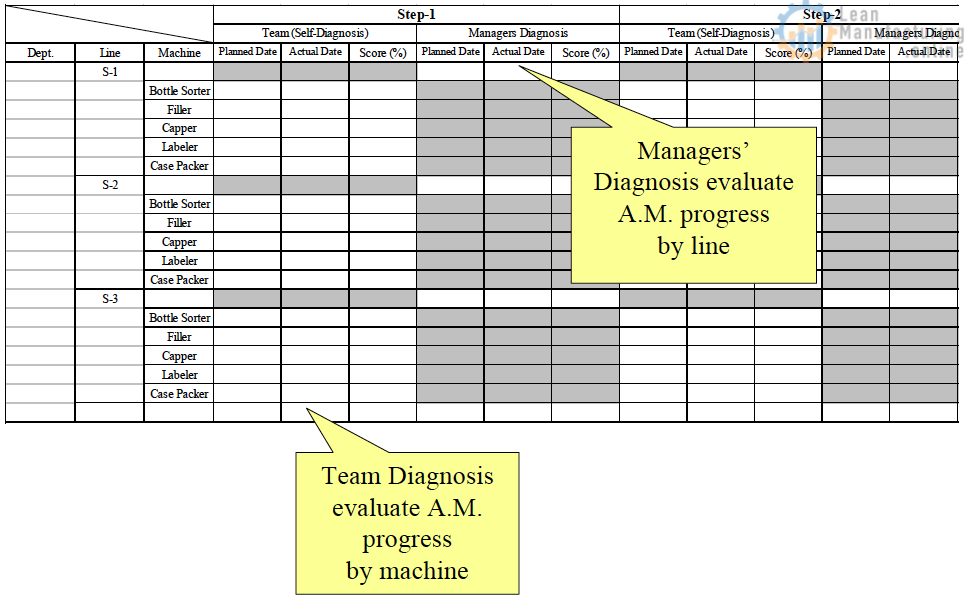 Elements of an Activity Board
TPM Activity Board Requirements (Activity Board for First-line Small Group)
Policy & Implementation plan

Policy & Target
Company / Factory policy & target / Department / Team policy & target (Annual, quarterly) / Action plan; TPM Master plan (Plant-wide and long term) / Team implementation plan (Annual plan and Quarterly)

Indicators (Measurables)

Tracking data (Daily & Monthly)

Productivity (Output per hour person)
Quality (# of scrap and type of scrap)
Cost (Overall Equipment Efficiency – Bottle neck machine)
Delivery & Availability – Zero Breakdown calendar

(On-time delivery ratio, # of unscheduled breakdown, downtime, change over time

Safety (Lost time injury)
Data collection (Daily or Every shift)

# of Major stops (Equipment Failures)
# of scrap and type of scrap, rework
Safety Information (# of Near Miss Report, LTA / MA)
* Change over time , Time and Operation Analysis Chart
# of minor stoppage

AM & FI Activities Process

AM Activities at each step – SOCS &HTA, Visual Control
One Point Lesson (Basic knowledge / Improvement case / Troubleshooting)
Trend chart – # of F-Tag (Blue / Red ) & F-Tag log (Fuguai list)
FI Topics Register – 5-why analysis / P-M Analysis
Autonomous Maintenance standards

Review of action taken

# of One-point lesson / # of Tag (Blue / Red)
Step Diagnosis comment, score & sticker