SHE pillar vision is to cultivate a continuous improvement culture that achieves a sustained record of Safety, Health, & Environmental excellence & realizes our vision:
ZERO accidents,
ZERO incidents,
ZERO losses.
The SHE Pillar is the cornerstone TPM Pillar that supports and lends stability to overall continuous improvement process and to all of the other TPM Pillars.
We believe that a sturdy, well developed SHE Pillar is essential to realizing goals of:

Achieving zero accidents, zero incidents, and zero losses.
Building a World Class Supply Chain.
SHE Mission Statement
To enhance and protect most important assets – its people, brands, and reputation. We will operate in a way that:

Incorporates SHE concerns into our business strategy
Recognizes that each of us has responsibility for achieving safety, health, and environmental excellence
Identifies and provides resources to accomplish safety, health, and environmental objectives
Promotes the culture of zero accidents and zero environmental incidents
Fully integrates SHE into all business processes
Champions activities that reduce environmental footprint
SHE Pillar Plan. Creating an Autonomous Safety Culture
All Co-workers Internally Motivated to Work Safety
Have the Necessary Safety Knowledge & Skills
Everyone Takes Charge of Their Own Safety
Employees Empowered to Take Safety Action
SHE Activities are linked to each AM Step
SHE Pillar Plan = Autonomous Safety
Make SHE A Value – Leadership SHE Training
SHE as a Way of Working – Integration of SHE & TPM
Task Based Risk Assessment
Behaviour Based Safety
5 S for SHE
SHE Kaizens
SHE Plan to address the 3 Key Areas of Safety Excellence
Proactive Safety Process for Addressing Underlying Risks
In fact, if one looks further down the base of the safety pyramid, for every serious accident there are numerous at risk acts and conditions. These at risk acts and conditions, which are often unseen, are the underlying cause of accidents.
Based Upon Leading SHE Data

At Risk Behaviours (Observations)
5S for SHE data (F Tags)
Ergonomics data
Investigation Report Review

Involve Multi-Disciplinary Teams
Use Formal Problem Solving – 12 Step Kaizen
Deliver Value:
SHE & AM Pillar Integration. Implementation in steps – JIPM concept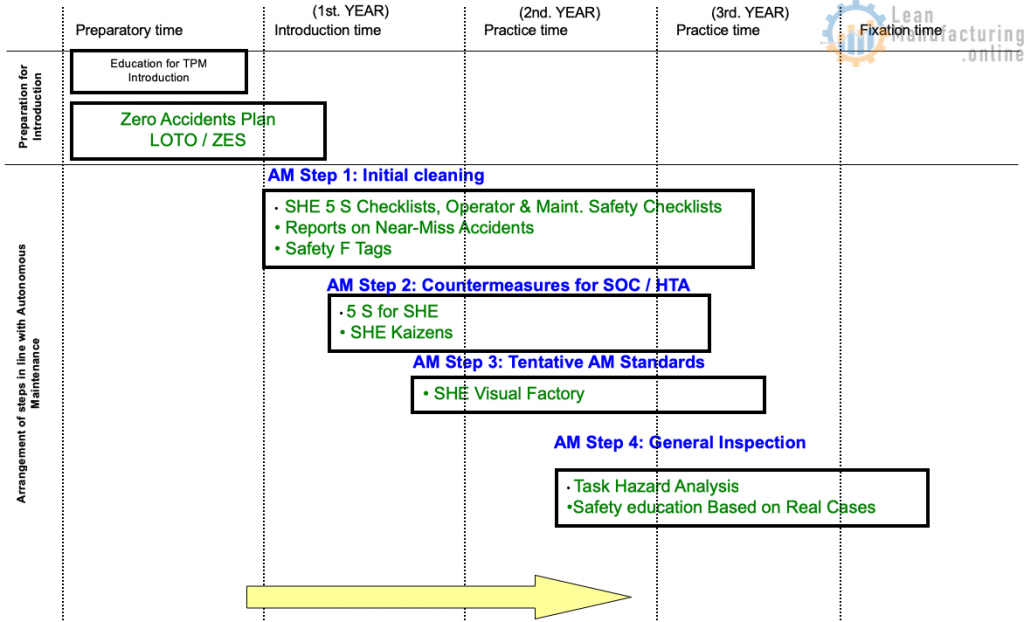 SHE Pillar Expectations for sister factories
Common SHE Loss Tree;
Focus on Proactive SHE Measures & Losses;
Common SHE KPIs, Measures and Targets;
Development of Annual SHE Improvement Plan;
Implementation of Behaviour Based Safety;
Integration of SHE & TPM = Autonomous Safety;
Compliance with global SHE Standards;
SHE Audits Every 3 Years.
SHE Targets & KPIs
Traditional

Recordable Rate
Environmental Incidents

New Proactive Measures

Near Misses
At Risk Behaviour
At Risk Conditions

Key SHE Activity Measures
Improve Communication and Focus on Improvements based on data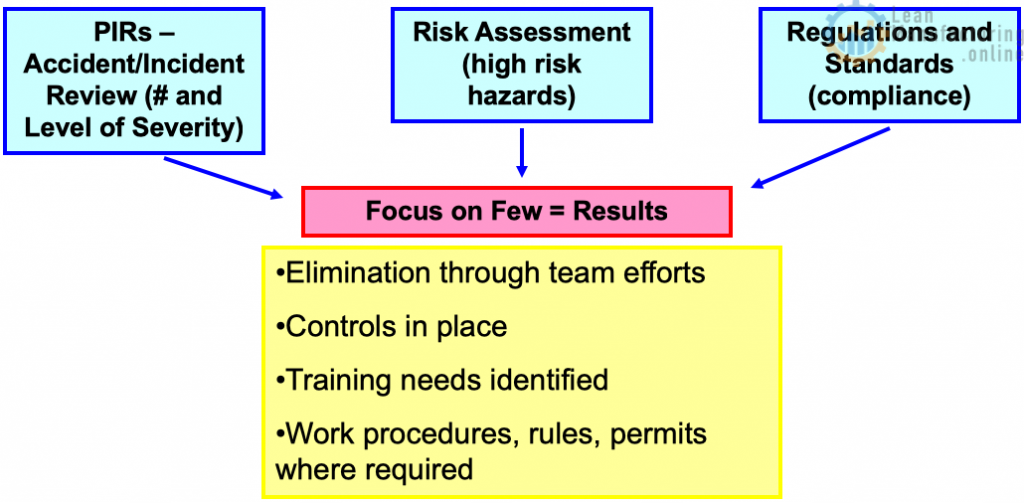 Examples of FI in Safety, Health and Environment
Forklift Safety Improvement Plan
Regulate traffic between people and forklifts
Educate and enforce safe driving of forklifts
Equip all trucks with seatbelts and enforce their use
Complete impact monitor implementation on all vehicles.
Evaluate all battery charging areas
Proper storage of pallets (not to exceed 16)
Material Handling Ergonomic Strategy
Complete actions from ergonomic assessment completed in Material Handling department
Ergonomic Committee to assess material handling issues as per Investigation Reports and make recommendations
Ergonomic Assessments to be carried out for all high risk tasks
Actions as per recommendations to be completed by Area Supervisors
Develop production plant personnel with the highest skills and competency standard that al…