To ensure that the checks can always be carried out easily and reliably, it is important to use a Quality Maintenance Matrix (a QM Matrix) to detail the relationships between the product's quality characteristics and the standard precision values for each part of the machinery. This matrix, sometimes also called a Quality Check matrix, is an essential tool for making certain that everyone understands what checks are required, and when, where, how, by whom and why they should be carried out. Of course, we must also introduce improvements at this stage to increase the reliability of checks, simplify them and reduce the number of people required (see Figure "Example of QM Matrix").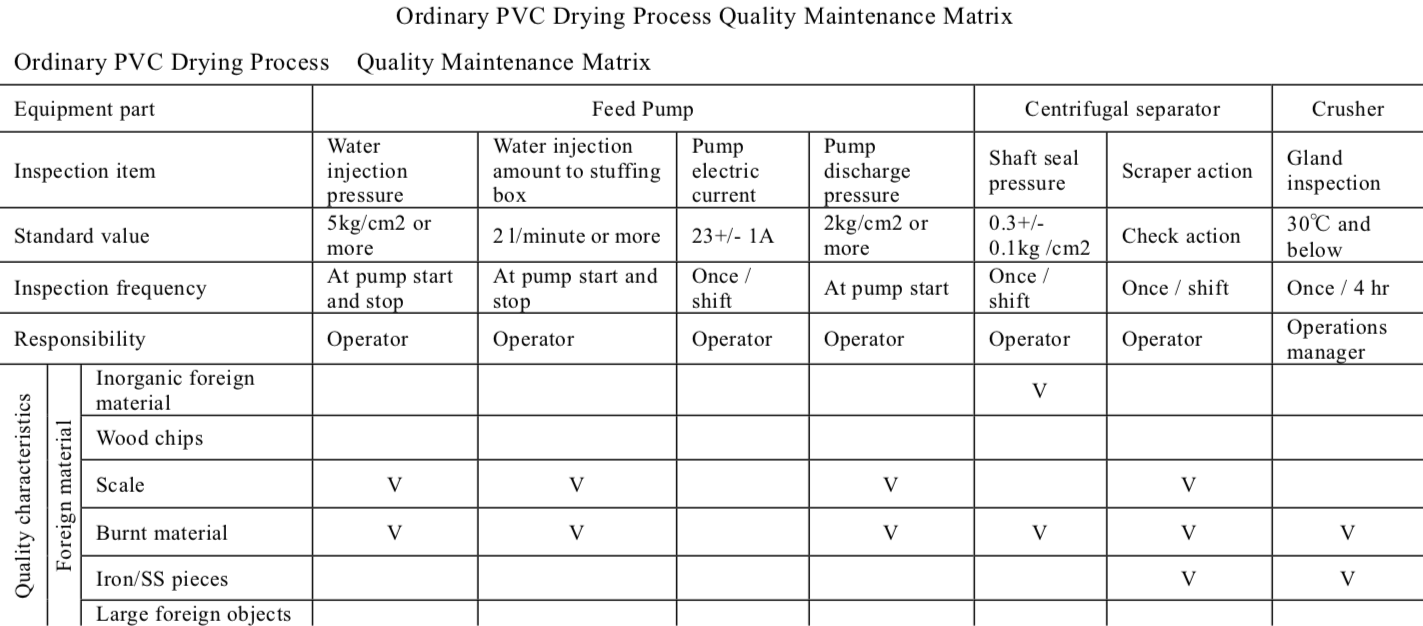 Revise Standards
We have now established certain conditions relating to the causes of defects, which, if adhered to, will ensure perfect quality. The next thing we must do is to perform the required checks reliably, at preset intervals and using the specified methods, to ensure that these conditions are maintained. We must also monitor trends in the conditions over time. To establish a condition monitoring system of this kind, we must ensure that operators and maintenance personnel understand the need for the checks, the methods to be used, and so on, and coach them on incorporating this information into their standards and manuals, following the steps illustrated in Figure "Standardization"
Figure "Example of Work Standard zero-defect" shows an example of how the Quality Check matrix can be integrated into standards.
In addition, by examining the items to be checked and the standard values for individual items of equipment, we can identify any components that will inevitably produce a quality defect if they deviate from the standards. Such components are called Q Components (Quality Components). To make sure that these components are a maintenance priority, we can draw up Q Component Tables and display them on the relevant parts of the equipment. We can achieve zero defects by strictly observing the relevant standards and continually monitoring the trends in these components.
Figure "Example of Q Component Table" shows an example of a Q Component Table for one piece of equipment. Another good idea is to create a maintenance calendar based on cards (see Figure "Example of Autonomous Maintenance Calendar"), to ensure that regular Autonomous Maintenance checks are carried out.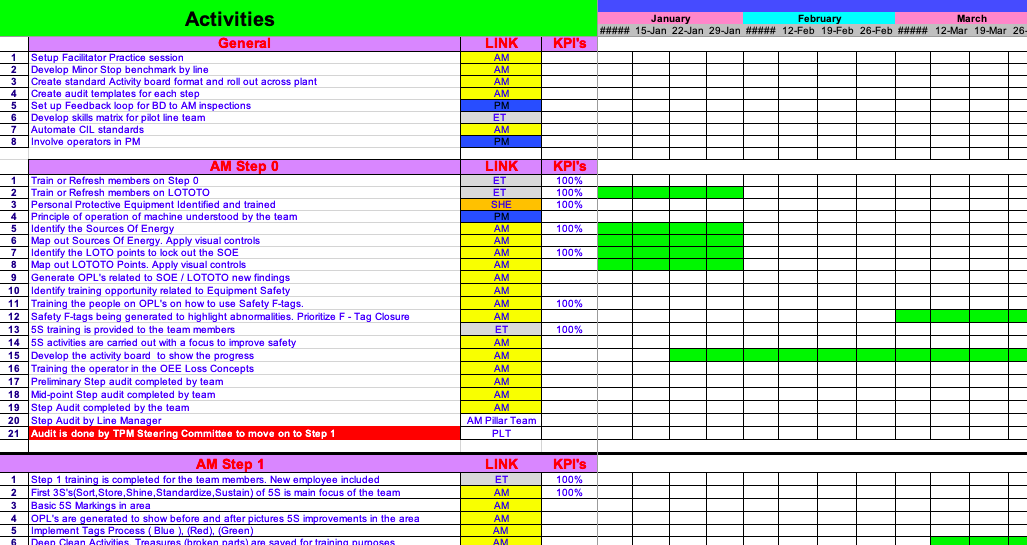 Perfect, right-first-time quality has been achieved in numerous cases through the painstaking application of Quality Maintenance to model products on model lines or machines, followed by a rollout to other areas. This also leads to reduced inspection labour hours and fewer complaints. Figure "The Results of One Company's Quality Maintenance Program" shows an example of the positive results that can be achieved.