TPM Introduction
Once an organisation's senior management has decided to introduce TPM, it is likely to want to get going straight away. However, developing a TPM programme and implementing the five main pillars takes time and thorough planning. Although the time required for the introductory orientation will depend on the size of the organisation, three to six months are usually required to provide all employees, including senior managers, with sufficient basic knowledge about the programme to ensure its successful implementation.
This preliminary, introductory stage of TPM is vitally important – just as important, in fact, as the planning and design stages are to releasing a new product. The successful launch of a new product or a new activity depends crucially on how well the planning and design are carried out.
TPM is a never-ending journey, but even programmes that go on indefinitely need targets and deadlines, or they will lack a sense of purpose, lose momentum, and end up not being very effective. When running a TPM programme, therefore, it is a good idea to plan it in three-year chunks, establishing a site or company vision and goals for every three years and cascading these down to individual workplaces. One of the key issues in doing this is how to translate the site's or company's business objectives into action targets. Other questions include what improvement topics to select, how to implement the improvement programme, and what deadlines to set.
Before officially kicking off its TPM programme, any site or company should complete the preparatory steps (Steps 1-5) of the 12-Step TPM Development Programme shown in the table below. The most important thing is to establish objectives that clearly show what the programme is aiming for and why it is being carried out. This is essential to ensure that the TPM programme does not become TPM for its own sake. When top management declares its commitment to introducing TPM (in Step 1), it should make sure that it clearly explains the programme's purpose. Then (in Step 2), publicity campaigns and orientation sessions are held to make sure everyone knows what the TPM campaign is all about, and get them ready to join in. The last part of the preparation phase is to plan how the business objectives will be achieved (this is the main focus of Steps 3-5). In these steps, the business objectives are developed into action targets, an organisation is set up to drive the activities towards achieving those targets, and timescales are established. Steps 3-5 are extremely important preparatory steps that are key to the success or failure of the TPM programme.
This chapter describes each of the five preparatory steps in more detail, and also gives some advice on the Kick-Off (Step 6), rolling out Focused Improvement (Step 7-1) and rolling out Autonomous Maintenance (Step 7-2).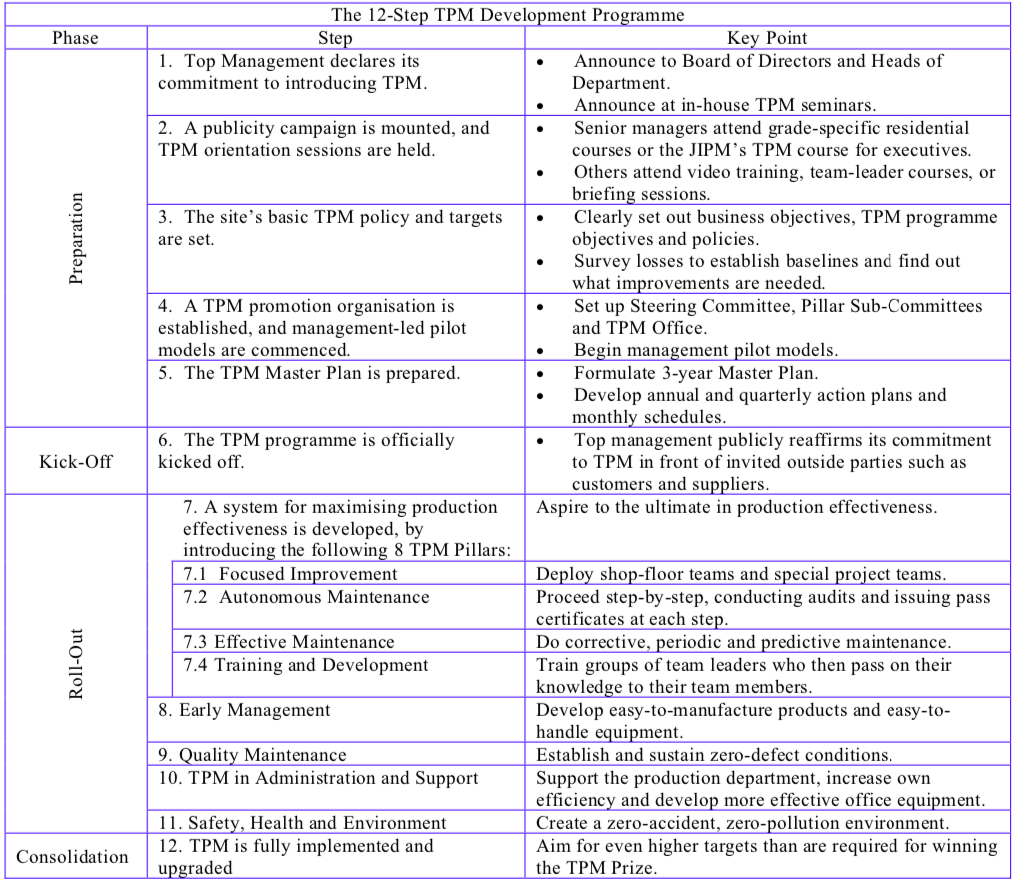 You can complete reading here