EEM is not just an Engineering activity but a collective effort with plant technicians,  operators,  crafts, supervisors, etc.
EEM learnings are best obtained with one to one discussions with shop floor personnel.
EEM must become part of the Capital Expenditure process with acknowledgment of EEM consideration similar to Safety and Environmental input.
The EEM team will address speed to market in all our efforts, knowing the extra upfront time it takes to do EEM right.
Early Equipment Management Goals
Design production equipment that is easy to use, easy to maintain, highly reliable, and well-engineered.
Reduce the time from equipment development to production and achieve 'vertical start-up'
Long Start-up Period
Lots of teething troubles
Time to transfer operation skills
Lack of detail
Little operational input
Difficult to sustain & improve
Machines have worn after the warranty period
Insufficient daily maintenance
Continuous introduction of new material/product
Slow skill "catch-up"
Causes of Poor Start-up: 4M's
Man
Machine
Methods
Materials
Other
4 M's "Man"
Skill
lack of training
high level of technology
Organization
insufficient involvement of factory personnel in the design
lack of resources
Communication
language
no structured process
4M's "Machine"
Design
no feedback of improvements
insufficient consideration of ease of operation, maintenance
insufficient standardization
unreliable parts, special parts
Installation
misalignment
missing, damaged parts
Supplier
lack of operational knowledge
reluctance to incorporate operational knowledge
4M's "Methods"
Schedule
no time for design modification
poor scheduling & resource allocation (commissioning)
delay in procuring
Procedure
no standard for commissioning
insufficient manuals
unclear handover conditions
4M's "Materials"
Design
insufficient consideration of machine dynamics and accuracy
packaging design change after fixing machine specification
Quality control
poor source inspection
defective materials
poor control (storage) of materials
4M's "Other"
Budget
insufficient for design modification
Demands
insufficient forecasts for future uncertainties
Early Equipment Management Goals
Vertical Start-up
Short start-up period
High OEE% that increases steadily
Equipment must be /have:
Intrinsically reliable design
Cleaning lubrication inspection standards for AM&PM
Audit checklists
Easy to clean, inspect, lubricate and change-over
Easy to maintain and repair
Easy to operate (fail-safe)
Easy to obtain data for predictive maintenance and further improvement
People must have obtained the skills for operation, maintenance, and improvement of equipment
Key Activities in EEM
Collect Maintenance Prevention  Information
Maintenance Prevention Design
Initial Flow Control
Project Management
30/90 Day Post Completion Audit
Launching Costs
EEM Process
MP Information & MP Design
Collect (MP) information about issues with previous equipment designs and use this data to improve the (MP) design of new equipment
MP function design

ease of operation, maintenance, monitoring, and safety

Loss-free design
Effective feedback of operational knowledge

communication between equipment designer and operators/maintenance staff
equipment designer does not usually have sufficient knowledge on operation/maintenance
set-up of procedures for gathering MP information
apply the MP information into new equipment design and standards
Maintenance Prevention Information
MP information is :
"Operational information obtained by conducting technological studies which classify and continuously refine improvements. Such improvements with associated plant history and design modification should be readily transferable".
MP Information
SOP (Standard Operating Procedure)
Changeover procedure
One-point lesson sheet
Current major losses
Trouble records
Maintenance records
Improvement records
Effective maintenance procedure
Parts (consumption) records
MP (Maintenance Prevention) sheet
Why-Why, PM analysis, etc.
Technical report
Quality report
Check sheet (design, spec., commission.)
Commissioning report
Cleaning procedure
Lubrication procedure
Inspection procedure
QC procedure
Suggestion
Commissioning report
Skill map
Training procedure, materials
MP info: Technical reports Best Proven Practice
MP Info: Visual management improvements. Easy inspection, cleaning, lubrication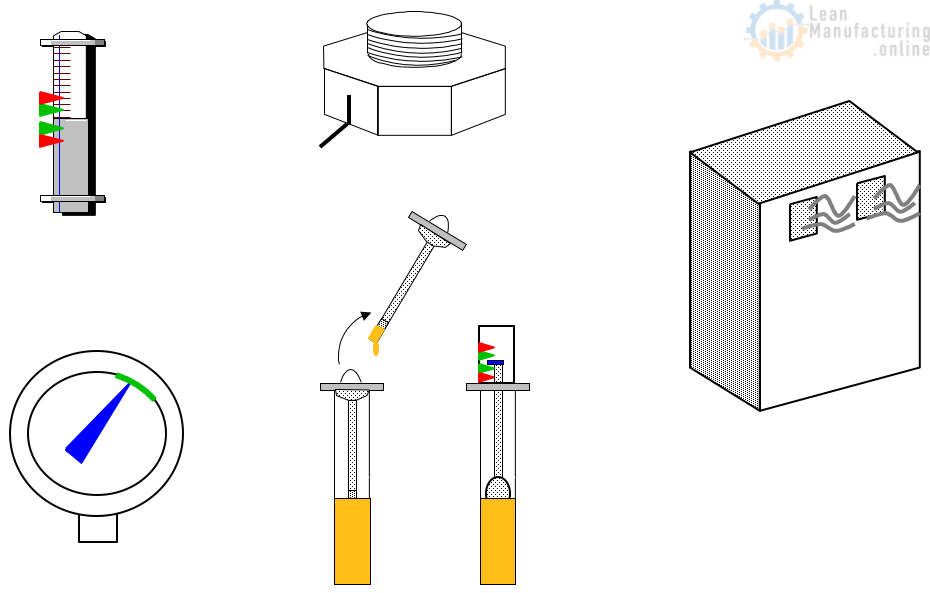 MP Info: Trouble records – design faults
MP Info: Commissioning reports
MP info: Improvement records
General
Easy to understand
Qualitative
Drawing/picture
Transferable

Calculation
Classification
Loss
MP function
Machine / Products
Information level
Good example?
MP Info: Improvement Records Classification
Classification

Loss

Breakdown / minor stoppage / set-up & adjustment / speed / defect & rework

MP function

Safety / operability / reliability / maintainability – autonomous maintenance / audit/ economy / quality / friendliness to environment, people

Machine / Products

Supplier/specification
Products/property etc.

Information level

Horizontal replication / standardization / training / permanent countermeasure
MP Info: Improvement Records Loss / Cost Calculation
Loss
Losses (less than once / year)

Production stop (hr / min)
Rework / scrap (ton / unit)
Defects / complaints (ton / unit / no. of complaints)

Other Losses

Losses x frequency (times/year)

Reduced speed

(Specified – reduced speed) x duration
Cost
Man-hour to fix troubles
Parts cost
Subcontractor, equipment supplier costs, etc.
MP Info: Improvement Records Benefits
Benefits

Production capacity increase

Man-hour reduction

Cost reduction

rework/scrap
inspection
parts
subcontractor
Example
Breakage of parts

once / month
3 hr for change
parts cost $20


Change of materials & design

once / year
3 hr for change
parts cost $20


Man-hour reduction

3 hr x 12 – 3 hr x 1 = 33 hr

Production capacity increase

33 hr / 5,000 hr(available time) = 0.66 %

Cost reduction
Maintenance Prevention Design
MP design is:
" The use of the latest maintenance data and technology when planning or building new equipment to promote greater reliability, maintainability, economy, operability, and safety while minimizing maintenance costs and deterioration related loss".
MP Design: 3 Objectives
Main Function Design
to meet current, future requirements for equipment in terms of quality, cost, capacity, flexibility, and safety.
MP Function Design
incorporates ease of monitoring, operating, and maintenance so that operators can easily improve the equipment, and identify and solve problems.
Loss-free Design
to eliminate 16 major losses, such as start-up, breakdown, minor stoppage, set-up, speed. defect/rework, which has been occurring in existing equipment.
MP Design: Main Functions
Capacity / Flexibility
Life Cycle Cost  / Life Cycle Profitability
Quality Assurance / Reliability / Skill level
Environment/people friendly
Fits with upstream/downstream processes
MP Design: Main Function Specification
Analyze needs reflected in the production of current products thoroughly before launching into the design of new equipment

Set clear quantitative goals
Quality
Costs ( Initial / Running )
Flexibility
Draft a specific plan for achieving these goals
The work of designing equipment becomes the work of achieving a mission with specific goals
Main function design

Quality Assurance design
Life Cycle Cost / Life Cycle Profit design
Flexibility design
MP Design: Main Functions
Capacity
throughput
balance between processes

Flexibility
Cost
IC (Initial Cost)
RC (Running Cost)
LCC, LCP

short-life products vs. long-depreciation change parts
Uncertainties
volume
mix
complexities
Quality Assurance
–Technology / material selection
air-clutch/magnet-clutch/servo. for torque control
Reliability
–Dynamic accuracy, tolerance
–Reliable parts

Skill level required
mechanical  or servo drives
Design for Safety
Reliability Design
Avoiding operation-stopping failures & operation-deteriorating failures

Operability Design
Ease of operation, changeovers & adjustments
Easy troubleshooting, preventing operation-error

'Autonomous Maintenance' Ability Design
Ease of daily maintenance

Maintainability Design
'Audit' Design
Ease of predictive maintenance
MP Functions: Design Reviews
Prepare checklists for each MP function
–ease of autonomous maintenance
–ease of planned maintenance
–ease of operation
–ease of monitoring and data collection for kaizen
–etc.
Study the MP information on existing equipment
Evaluate equipment specifications
Identify apparent & possible problems
Revise the specification (if necessary)
MP Information
One-point lesson sheet
Current major losses
Trouble records
Maintenance records
Improvement records

MP function checklists ->
MP Function Checklist: Operability
Operators can do Operation & Changeovers quickly, accurately, and easily.